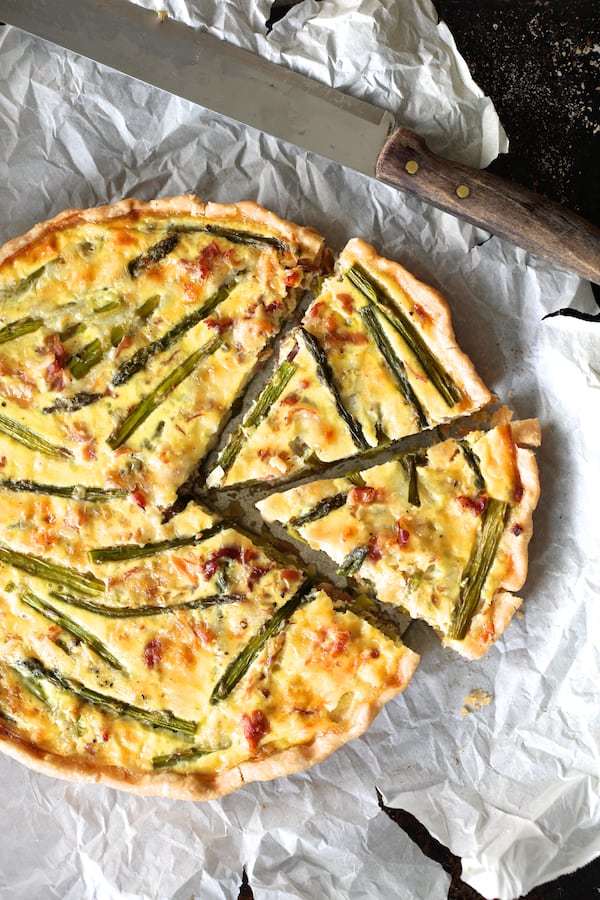 Asparagus Prosciutto and Fontina Tortino
Recipe by From a Chef's Kitchen
Visit website
---
---
Asparagus Prosciutto and Fontina Tortino is how to turn a spring breakfast or brunch into amazing!  Add a glass of Prosecco for a lovely Italian-inspired experience!
---
---
Ingredients
nonstick cooking spray

1 prepared pie crust for 9-inch pan

3 ounces prosciutto (approximately 6 slices)

(chopped)

1 tablespoon olive oil

((divided))

1 medium shallot

(minced)

8 ounces thin asparagus

( tough ends trimmed, cut in half crosswise )

salt and freshly ground black pepper

¼ cup freshly grated Parmesan cheese

1 heaping cup shredded Fontina cheese

(approximately 4-5 ounces)

2 eggs

1 cup half-and-half

(or whole milk)
---
---
Method
Preheat oven to 375 degrees. Spray a 9-inch tart pan that has a removable bottom with cooking spray.
Place the pie crust in the prepared tart pan and fold the excess down into the pan and press it into the rim of the tart pan to form a neat crust. Place on a baking sheet.
Place a piece of parchment paper over the dough and fill with pie weights. Bake for 18 to 20 minutes or until the crust is baked but not browned. Transfer to a cooling rack to cool.
Meanwhile, heat a nonstick skillet over medium-high heat. Add the prosciutto and cook 3 to 5 minutes or until any fat is rendered off and the prosciutto is just lightly browned. Transfer to a plate to cool.
Heat olive oil in the skillet over medium-high heat. Add the shallot, reduced heat to medium and cook 2 to 3 minutes or until beginning to soften. Add the asparagus and stir-fry 30 seconds. Add 1 tablespoon water and continue cooking 1 more minute or until water has evaporated and asparagus is bright green. Season with a pinch of salt and black pepper. Remove from heat and allow to cool.
Sprinkle Parmesan cheese over the bottom of the baked crust.
Combine prosciutto, asparagus and Fontina cheese (either in the skillet used to cook everything or in a bowl). Transfer to the prepared crust and evenly distribute everything, pressing it down into the crust so the top is level.
Whisk together eggs and half-and-half (or milk). Season with a pinch of salt and black pepper. Pour custard mixture over asparagus mixture.
Bake at 375 degrees for 10 minutes. Reduce heat to 350 degrees. Bake another 30 to 40 minutes or until set and top is just beginning to brown.
Let cool in the pan 10 minutes. Remove the pan sides and cut into wedges. Serve hot, warm or room temperature.