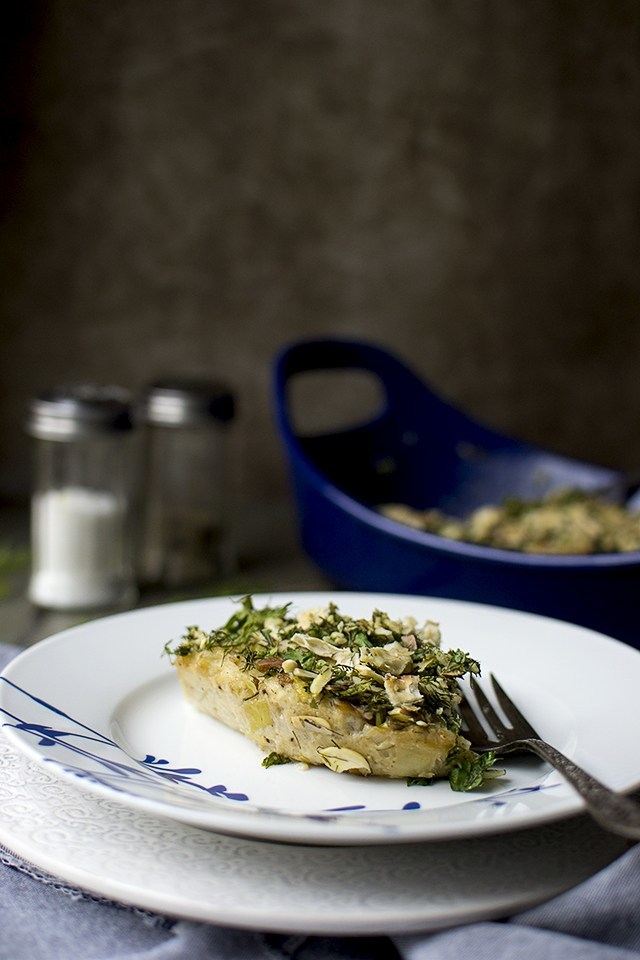 Cauliflower Leek Kugel (Savory Jewish Pudding)
Recipe by Cook's Hideout
Visit website
---
---
---
---
Ingredients
2 cups Cauliflower florets
1½ whole Matza/ Matzoh crackers
6 oz Silken Tofu
1 medium Leek, both white and green parts chopped
2 garlic cloves
1 small Onion
2 tbsp olive oil
3 tbsp fresh parsley
3 tbsp dill
to taste Salt Pepper
supermarket roast chicken, approximately 200g once shredded
---
Method
Preheat oven to 350°F. Grease a 8" square or a 1~1.25 quart baking pan.
Steam, boil or microwave the cauliflower until very tender. Drain and transfer to a large mixing bowl. Mash coarsely with a fork or a potato masher.
Crumble 1 sheet of matzoh into a food processor and process to crumbs. Set aside.
Blend the tofu until smooth.
Heat 1tbsp oil in a pan, add the leeks, onions and garlic (if using) and saute till the leeks are tender and onions are translucent, about 6~8 minutes.
Add the leek mixture to the cauliflower. Mix in the matzoh crumbs and the pureed tofu, along with 1tbsp each of parsley and dill. Season with salt and pepper.
Spread the cauliflower mixture evenly into the prepared baking dish.
Mix the remaining herbs with the chopped almonds. Mix well.
Crumble the remaining ½ matzoh into large crumbs and add the remaining 1tbsp olive oil, Mix well.
Sprinkle the almond-herbs mixture and the cumbled matzoh mixture evenly over the cauliflower mixture.
Bake for 30~35 minutes or until the top is browned and a knife inserted into the center comes out clean.
Remove from the oven and let stand for 10 minutes before serving.