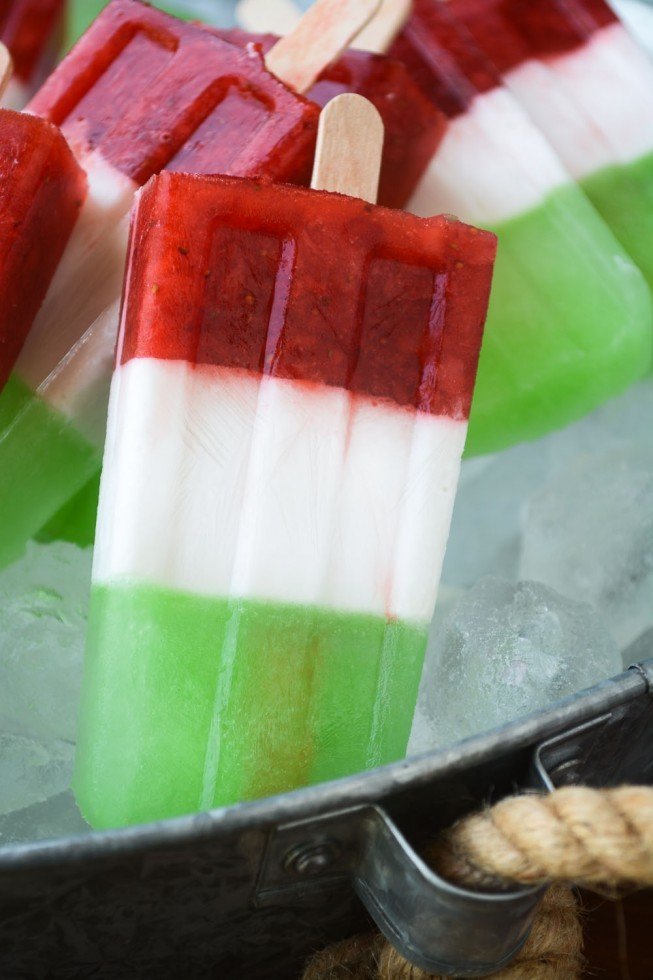 Cinco de Mayo Popsicles
Recipe by The View From the Great Island
Visit website
---
---
Colorful Cinco de Mayo Popsicles represent the colors of the Mexican flag!
---
Servings
makes 10 popsicles, depending on the capacity of your popsicle mold
Cuisines
Courses
---
Ingredients
lime stripe

juice of 4 limes

2-3 tsp sugar

(to taste)

a drop of green food coloring

(optional)

coconut stripe

1 cup coconut milk

1-2 tsp sugar to taste

strawberry stripe

about 10 large strawberries
---
Method
To make the green layer, place the lime juice in a glass measuring cup. Stir in the sugar to dissolve, and then add enough water to make 1 cup. Taste it to make sure you have got a good balance of sweet and sour, and adjust if necessary,
pour the lime juice about 1/3 of the way up into each of 10 popsicle molds. Freeze the molds until the layer is almost frozen solid, then remove and place a stick into each mold, anchoring it into the lime layer. Return the mold to the freezer and freeze until completely solid.
To make the white layer, whisk together the coconut milk and the sugar until smooth. Pour the coconut milk into each popsicle mold, filling it another 1/3 of the way. Return the mold to the freezer and freeze until completely solid, about 2 hours.
For the last layer, whiz the strawberries in a small food processor. Add a little bit of water to make about 1 1/3 cups.
Top off each of the molds with the strawberry mixture, and return to the freezer to finish freezing.
When ready to eat, unmold the pops by filling your sink with hot tap water and immersing the mold up to, but not over, the top lip for about 15 seconds. Remove the popsicles and eat immediately, or wrap in waxed paper and place in freezer baggies to store for later.