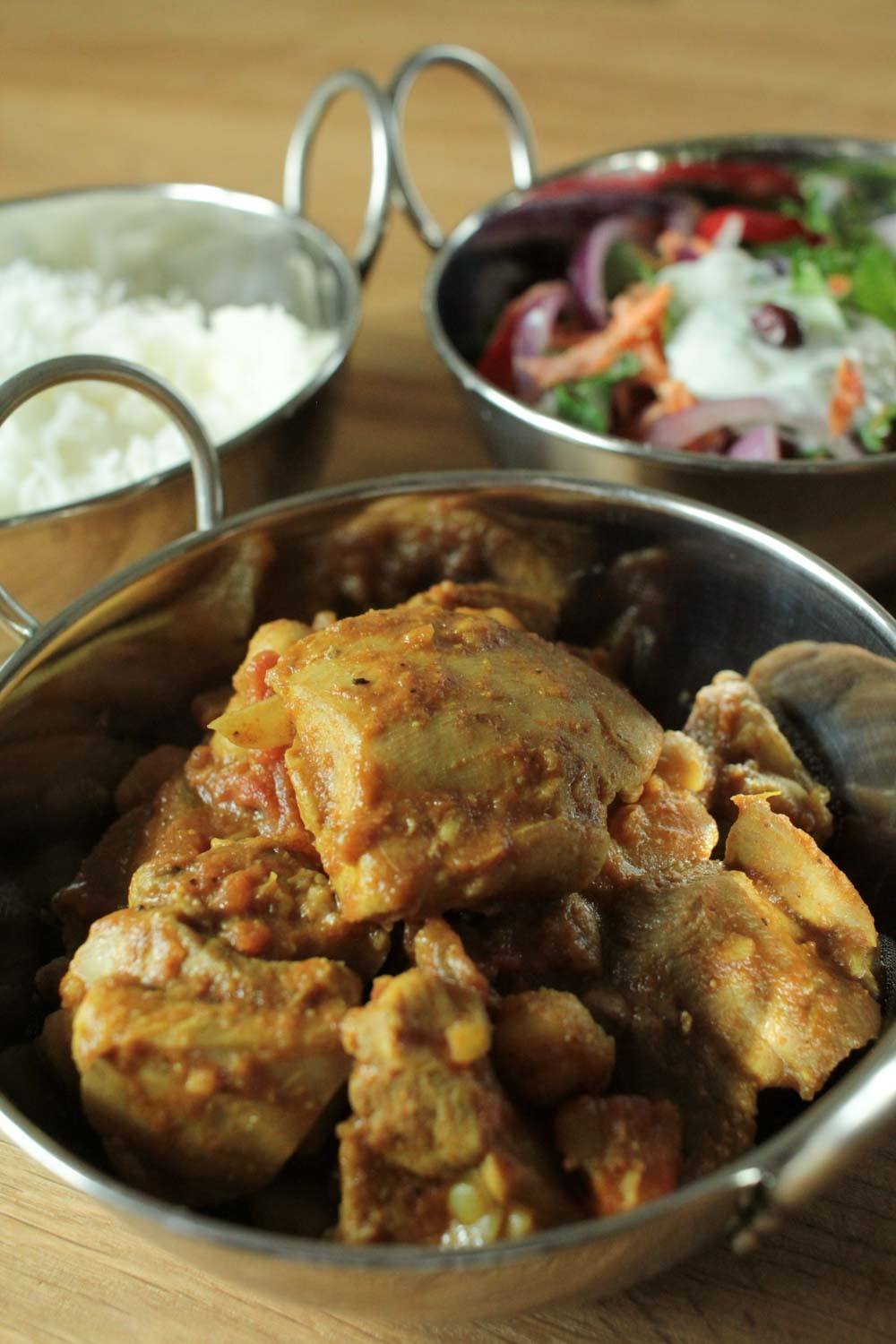 Easy Chicken and Chickpea Curry with Indian Slaw
Recipe by Globe Scoffers
Visit website
---
---
---
---
Ingredients
8 chicken thighs
260 g chickpeas
1 onion
4 cloves of garlic
2 inches ginger
1 green chilli
2 tsp Garam Masala
1 tsp ground coriander
1 tsp ground cumin
0.5 tsp ground turmeric
1 tsp chilli powder
400 g chopped tomatoes
4 tbsp Greek yogurt
1 carrot
1 red onion
1 large handful fresh coriander
0.5 lime
1 red chilli
20 g pomegranate seeds
4 tbsp Greek yogurt
a few sprigs fresh mint
---
Method
Place the garlic, ginger and green chilli into a pestle and mortar and work into a paste.
Heat 1 tbsp of oil in a large casserole pot on medium heat and add the onions. Cook for 8-10 minutes, stirring occasionally until soft and golden.
Add the garlic, ginger and chilli paste into the pan and cook for a minute.
Then add the ground spices, mixing everything together and cook for 30 seconds. Now add the chicken mixing well and coating it in the spice mix.
Fry the chicken until it becomes mostly opaque, then add the chopped tomatoes and greek yoghurt. Mix everything together and bring to the boil. Then cover with a lid and simmer for 15 minutes.
Meanwhile, prepare the Indian slaw. In a bowl mix the grated carrot, sliced onions and fresh coriander. Squeeze some of the lime juice into the mixture.
In a separate bowl mix the yoghurt, mint and a squeeze of lime juice.
Sprinkle the red chilli and pomegranate seeds on top of the slaw then add a large dollop of the yoghurt.
After 15 minutes, remove the lid and add the chickpeas. Cook for a further 5 minutes to reduce the sauce. Season well with salt and pepper.
Serve with some fresh basmati rice and enjoy!