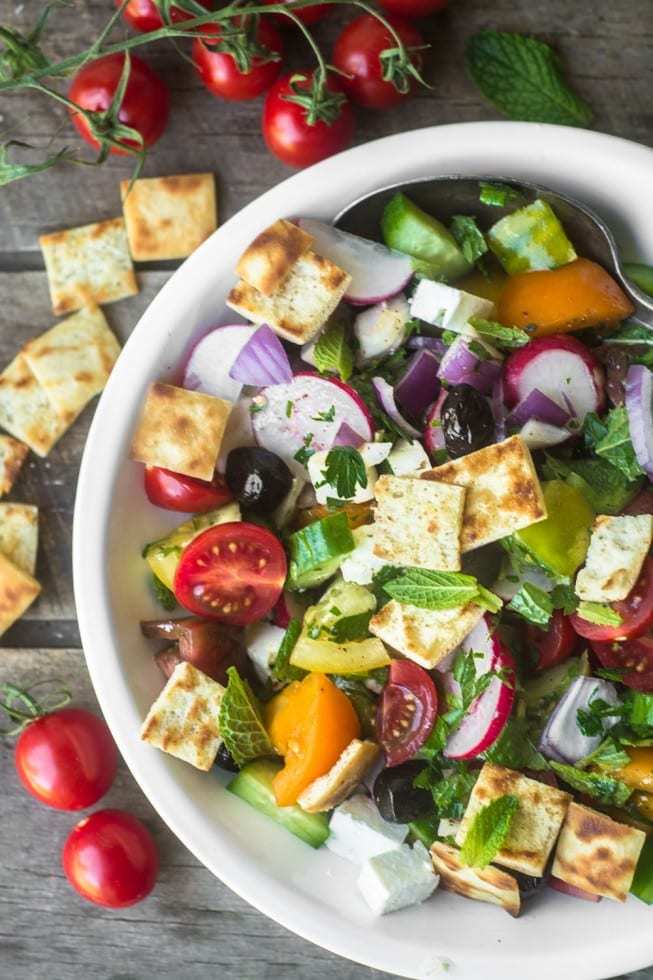 Fattoush
Recipe by The View From the Great Island
Visit website
---
---
Fattoush is a healthy, vibrant Mediterranean salad made with fresh veggies and crisp pita bread --- the tangy lemon-sumac dressing makes it truly unique!
---
---
Ingredients
1 round of pita bread
1 tbsp olive oil
pinch of onion salt
2 ripe tomatoes
a handful of cherry tomatoes
2 small Persian cucumbers, or 1/2 of a larger one
0.5 small red onion, thinly sliced, or chopped in a small dice
several radishes, sliced or cut into wedges
2 ounces feta cheese, cut in small chunks
a handful of cured black olives
a large handful of clean parsley leaves
a smaller handful of mint leaves, rough chopped or torn
dressing
4 tbsp olive oil
3 tbsp fresh lemon juice
1 tsp sumac
of salt
---
Method
Cut the pita bread into 1 inch squares, and then carefully separate the two layers of the bread, so you are left with single layer squares. Toss them with the olive oil and onion salt until evenly coated.
Toast the pita in a large skillet over medium heat until they are brown and crisp. Stir and flip them almost constantly and try to keep them in a single layer so they will toast evenly. Set aside.
Chop the tomatoes into bite size chunks. Halve or quarter the cherry tomatoes. Put them all in a large bowl.
Slice the Persian cucumbers into bite sized chunks. There is no need to peel them. If you use a regular cucumber, peel and de-seed it first.
Add the onions, radishes, cheese, and olives to the bowl, along with the fresh parsley and mint.
Whisk together the dressing ingredients and taste to adjust any of them. If you like it less tangy, add more oil. Toss the salad in enough dressing to moisten. Toss the toasted pita and serve immediately.