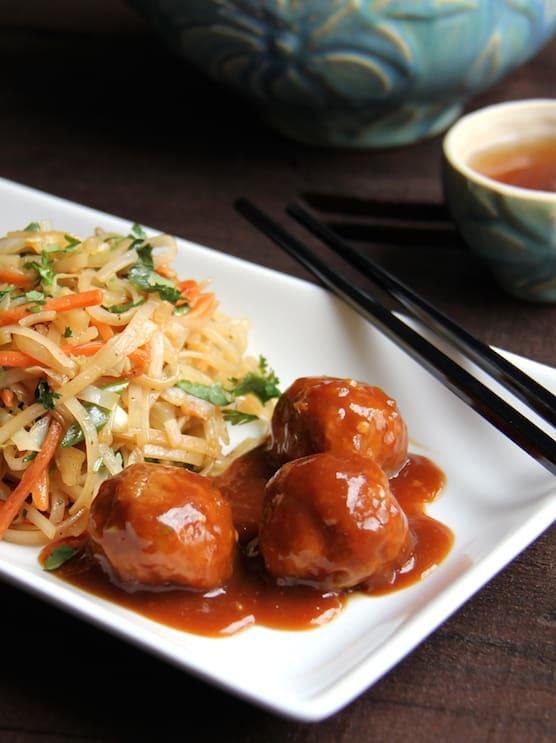 Hoisin Glazed Pork Meatballs and Rice Noodles with Cabbage and Carrots
Recipe by From a Chef's Kitchen
Visit website
---
---
Soooo good! Put these Hoisin Glazed Pork Meatballs and Rice Noodles with Cabbage and Carrots in your life now!
---
---
Ingredients
meatballs AND GLAZE
non-stick cooking spray
2 scallions
4 cloves garlic
1 tablespoon minced ginger
0.25 cup soy sauce
1 teaspoon Chili garlic sauce
0.33333333333333 cup panko
1 large egg
8 ounces ground pork
1 cup chicken broth
0.33333333333333 cup hoisin sauce
2 tablespoons dry sherry
2 tablespoons rice vinegar
2 teaspoons cornstarch
rice noodles
0.5 package (8-ounce) rice noodles
salt
2 tablespoons canola oil
2 cups shredded cabbage
1 large carrot
4 scallions
1 clove garlic
0.25 cup soy sauce
1 tablespoon rice vinegar
0.5 teaspoon freshly ground black pepper
chopped fresh cilantro
---
Method
MEATBALLS AND GLAZE
Preheat oven to 375 degrees. Line a baking sheet with aluminum foil and spray with cooking spray.
Combine scallions, half the garlic, 2 teaspoons ginger, 2 tablespoons soy sauce, 1/2 teaspoon chili garlic sauce, panko and egg in a bowl and mix well. Add the pork and mix until well combined. Form into 16 1-inch meatballs and place on prepared baking sheet. Bake for 12 to 15 minutes or until a meat thermometer inserted registers 165 degrees.
Meanwhile, make the glaze. Combine remaining garlic, ginger, 1/4 cup soy sauce, chili sauce, broth, hoisin sauce, sherry, rice vinegar and corn starch in a small saucepan. Bring to a boil, reduce heat and simmer until thickened. When meatballs are cooked through, transfer them to saucepan and keep warm while preparing the rice noodles.
RICE NOODLES
Cook rice noodles in boiling water with salt per package directions; drain well and toss with 1 tablespoon canola oil.
Heat remaining oil in a saute pan over medium-high heat. Add the cabbage and carrot and cook 5 to 6 minutes, stirring often or until vegetables are crisp-tender. Stir in remaining ingredients, add the rice noodles and heat through.
Serve with meatballs.