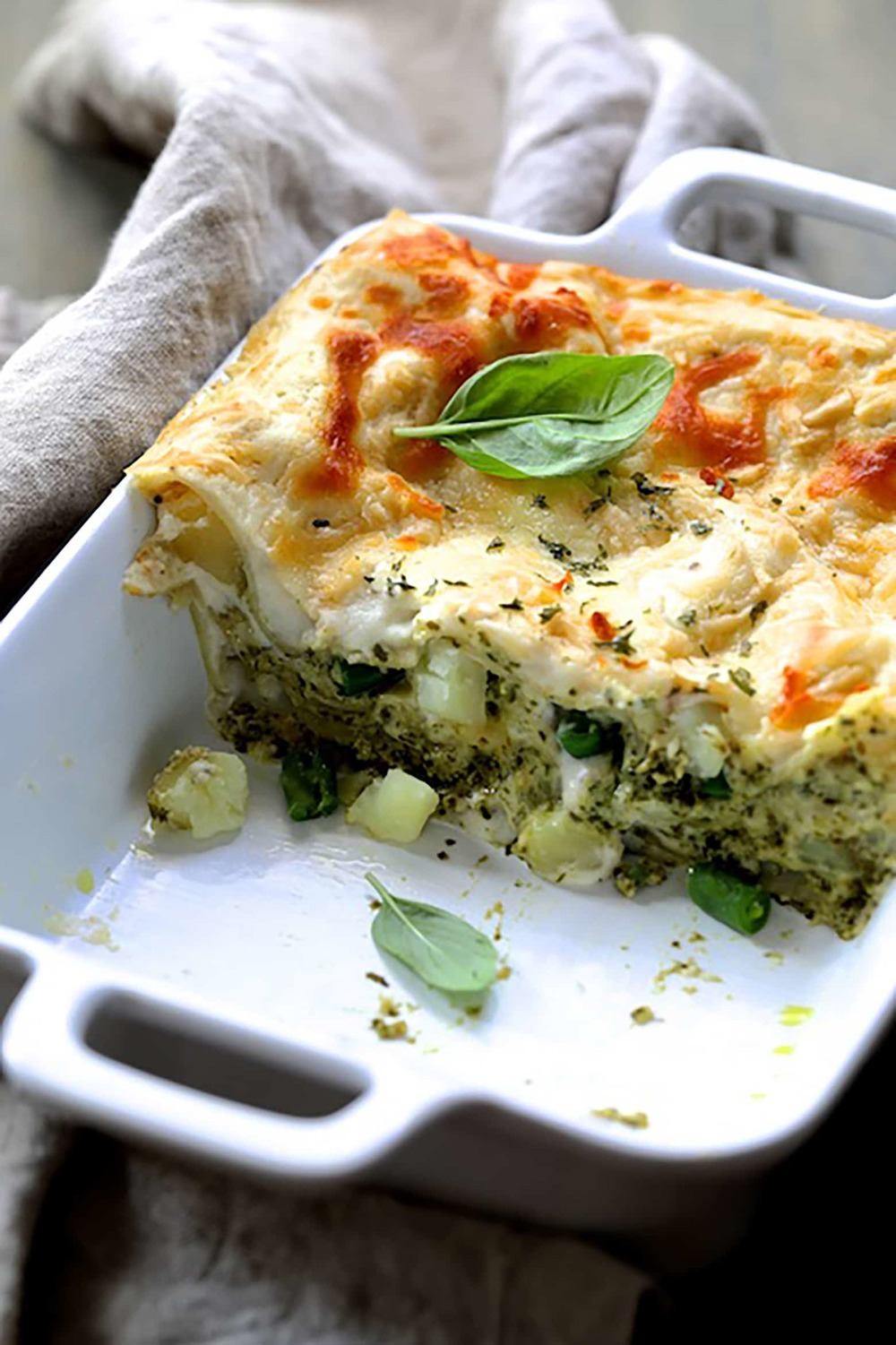 Lasagna with Pesto Green Beans and Potatoes
Recipe by From a Chef's Kitchen
Visit website
---
---
Lasagna with Pesto, Green Beans and Potatoes is the perfect way to use the rest of this year's fresh basil.  Or, if you have frozen pesto, make this for a taste of summer all year long!
---
---
Ingredients
olive oil or nonstick cooking spray

3 small Yukon Gold potatoes

(cut into 1/2-inch dice about 1 cup)

salt

1 handful green beans

(trimmed, cut into 1/2-inch pieces about 1/2 cup)

6 lasagna sheets

⅔ cup pesto sauce

½ cup ricotta cheese

3 tablespoons butter

3 tablespoons all-purpose flour

2 cups whole milk

dash of nutmeg

freshly ground black pepper

(to taste)

¾ cup shredded Mozzarella or Provolone cheese

½ cup freshly grated Parmesan or Romano cheese
---
---
Method
Preheat oven to 375 degrees. Brush or spray a small shallow baking dish with cooking spray. Set aside.
Fill a medium saucepan about half way with water; add the potatoes and 2 teaspoons salt. Bring to a boil and cook the potatoes about 5 to 8 minutes or until just starting to become tender. Add the green beans and continue cooking another 5 minutes or until potatoes and beans are tender. Strain the potatoes and green beans, reserving hot cooking water in a bowl or pan.
Run cold tap water over the vegetables to cool; set aside. Place the lasagna noodles in the reserved cooking water to soften. Add additional hot tap water to cover if necessary. Move them around periodically to prevent them from sticking together as they soften. As soon as they are pliable, drain and pat dry with paper towels.
Whisk together pesto and ricotta cheese until smooth; set aside.
Make the béchamel: Melt butter in a saucepan over medium-high heat. Add the flour and cook 1-2 minutes, whisking constantly. Slowly stir in the milk, whisking constantly. Bring to a boil, reduce heat and simmer until thickened, whisking often. Add nutmeg and salt and pepper to taste.
To assemble: Place a small amount of the béchamel in prepared baking dish (enough to cover the bottom) and 4 tablespoons pesto-ricotta mixture. Top with two of the noodles, arranging however they best fit the baking dish.
Cover with 1/3 of the béchamel, half of the remaining pesto-ricotta mixture and half of the green beans and potatoes. Sprinkle with 2-3 tbsp. of each of the cheeses.
Repeat layers again, finishing with remaining béchamel and remaining cheese.
Cover loosely with nonstick aluminum foil. Bake 30-35 minutes. Remove the foil and continue baking another 10-15 minutes or until bubbling and top is lightly browned. Let stand 5-8 minutes before serving.