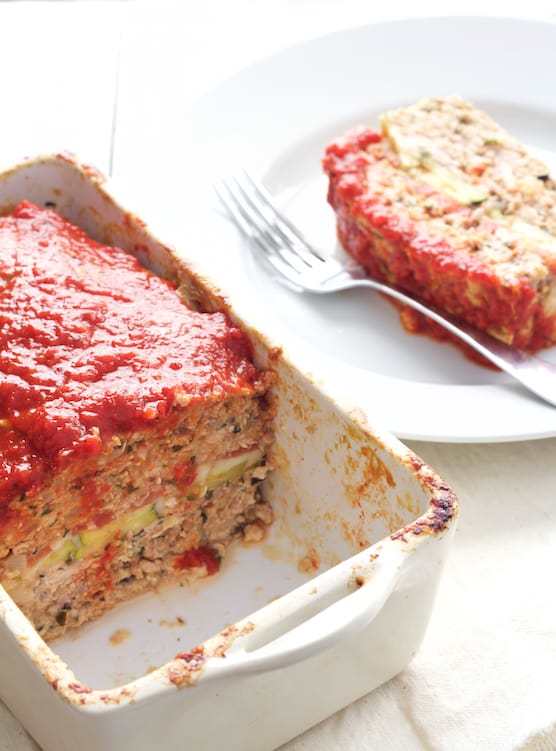 Layered Turkey Meatloaf with Roasted Red Pepper Sauce
Recipe by From a Chef's Kitchen
Visit website
---
---
Layered Turkey Meatloaf with Roasted Red Pepper Sauce is a summery spin on traditional meatloaf you're going to love.
---
---
Ingredients
2 medium plum tomatoes
1 medium zucchini
salt
2 tablespoons olive oil
1 large onion (red or white)
4 cloves garlic
0.25 cup fresh parsley
1 tablespoon dried basil
2 teaspoons dried oregano
0.5 teaspoon freshly ground black pepper
0.5 teaspoon crushed red pepper flakes
2 cups fresh bread crumbs
1 can (8-ounce) tomato sauce
2 eggs
0.5 cup freshly grated Parmesan cheese
1 pound ground white turkey meat
1 pound ground dark turkey meat
0.5 cup shredded mozzarella cheese
roasted RED PEPPER SAUCE
1 jar
0.5 cup tomato sauce
2 teaspoons balsamic vinegar
salt and freshly ground black pepper
---
Method
Preheat oven to 350 degrees.
Spread the tomato and zucchini slices out in one layer on paper towels or a clean kitchen towel. Sprinkle top side of vegetables with salt and let sit for 15 minutes. Turn the slices over, salt again and let sit another 15 minutes. Blot vegetables as dry as possible with a paper towel and set aside.
While vegetables are draining, heat olive oil over medium-high heat. Add onions, reduce heat to medium and cook 5-7 minutes or until beginning to soften. Add garlic, stir and transfer to a large bowl to cool slightly.
Stir in parsley, basil, oregano, 2 teaspoons salt, black pepper, crushed red pepper, 1/2 cup tomato sauce (from the opened can), eggs, and Parmesan cheese. Mix until well-combined. Add ground turkey and mix well, being careful not to overmix.
Oil a large 9 x 5-inch loaf pan. Place approximately half the turkey mixture in the loaf pan, smoothing the top. Place zucchini slices in one layer over the turkey meat. (It's okay for them to overlap slightly in the middle. Sprinkle with mozzarella cheese. Top with tomato slices placed in one layer.
Place remaining turkey mixture over the vegetables and smooth the top to make a nice loaf shape.
Bake for 1 hour. Pour half the sauce over the meat loaf and continue baking until a thermometer inserted into the center registers at least 165 degrees (approximately another 20-25 minutes. Let rest for 15 minutes before slicing. CAREFULLY drain off any excess juice/water.
Cut into slices and serve remaining sauce on the side.
SAUCE: Combine roasted red peppers, tomato sauce, balsamic vinegar and salt and pepper to taste in a food processor or blender. Process until smooth.