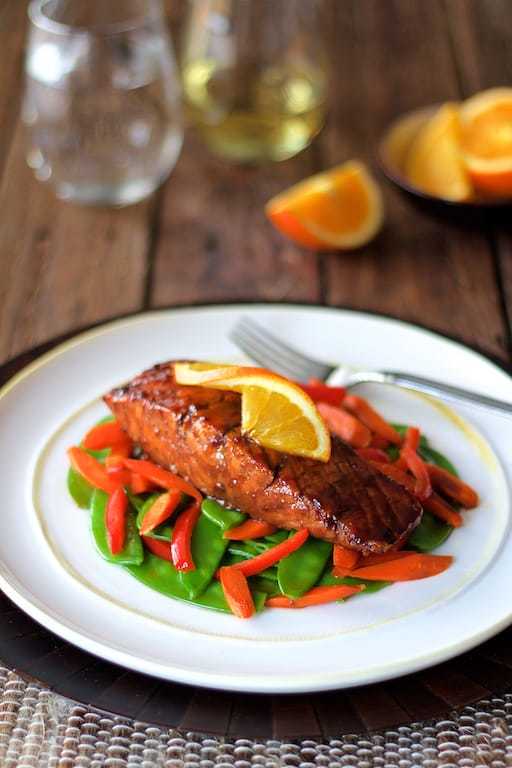 Pomegranate and Orange-Glazed Salmon with Stir-Fried Vegetables
Recipe by From a Chef's Kitchen
Visit website
---
---
Pomegranate and Orange Glazed Salmon with Stir Fried Vegetables is healthful and light! Omega-rich salmon and fresh vegetable are topped with a slightly spicy fruity glaze!
---
Servings
Cuisines
Courses
---
Ingredients
6 ounces snow pea pods, stem ends trimmed and strings removed
salt
0.75 cup pomegranate juice
0.75 cup orange juice
3 tablespoons soy sauce
1 teaspoon chili garlic paste
1 tablespoon dark brown sugar
1 tablespoon canola oil, divided, plus more for baking dish
2 (6-ounce) skinless salmon fillets
freshly ground black pepper
2 medium carrots, halved lengthwise and thinly sliced diagonally
0.5 large red bell pepper
orange slices
---
Method
Preheat oven to 325 degrees.
Prepare an ice bath. Bring a small saucepan of water to a boil. Add salt then snow pea pods, cook 10-15 seconds, drain and immediately immerse into ice bath. Drain again and pat dry. Set aside.
Combine pomegranate juice, orange juice and 2 tablespoons soy sauce in a small saucepan. Bring to a boil, reduce heat and simmer on medium-low 20-25 minutes or until reduced to approximately 1/3 cup with a syrup consistency. Stir in chili garlic paste and dark brown sugar. Set aside.
Lightly oil a glass or ceramic baking dish. Heat a sauté pan over medium-high heat. Add 1 teaspoon canola oil. Season salmon fillets with salt and black pepper. Add salmon fillets to pan and cook until nicely browned, 2-3 minutes per side. Transfer to prepared baking dish. Pour glaze over salmon. Transfer to oven and bake approximately 15 minutes until cooked through to 145 degrees or desired doneness, brushing once with glaze in the pan.
While fish is baking, heat remaining oil in sauté pan. Add carrots and cook 2 minutes, stirring constantly. Add red bell pepper and cook 2 more minutes. Add snow pea pods and cook 1 minute or until just heated through. Add remaining soy sauce.
To serve, place fish over vegetables and drizzle with any remaining glaze in the pan as desired. Garnish with orange slices.