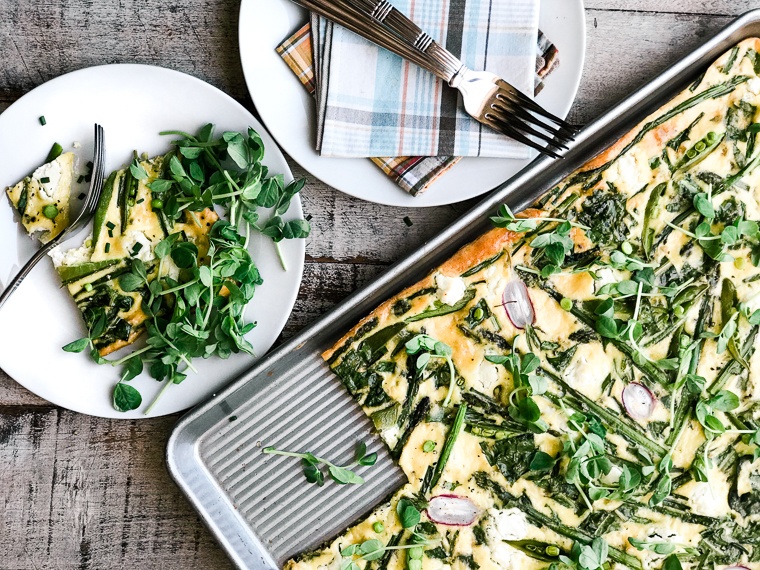 Sheet Pan Frittata with Spring Greens
Recipe by The View From the Great Island
Visit website
---
---
Sheet Pan Frittata with Spring Greens ~ easy eggs for a breakfast or brunch crowd...this healthy egg frittata makes a great meal prep for the week, too!
---
---
Ingredients
one dozen large eggs

1 tsp olive oil

2 tbsp grated Parmesan cheese

3 tbsp chopped chives

½ tsp salt

½ tsp fresh cracked pepper

1 cup chopped dandelion greens

½ cup heavy cream

(or half and half)

4 ounces baby asparagus

(trimmed)

3 ounces (about a cup) snap peas, sliced in half lengthwise on the diagonal

a handful of baby radishes

(halved)

3 ounces creamy goat cheese

(crumbled)

garnish

a handful of pea sprouts or other micro greens.
---
---
Method
Preheat the oven to 400F Put your sheet pan in the oven to heat up while you prep your ingredients.
Whisk your eggs together in a large bowl or stand mixer fitted with the balloon whisk. No need to whisk vigorously, just beat them so all the eggs are well broken up and combined. Blend in the Parmesan cheese, chives, salt, pepper, dandelion greens, and cream.
Take out the hot pan from the oven and add the olive oil to lightly grease. Scatter the asparagus and peas across the surface. Carefully pour the egg mixture over the top, and gently ease it into all four corners. Arrange the baby radishes across the surface, and then add the goat cheese.
Put the pan in the middle shelf of the oven, close the door, and turn it down to 375F. Bake for about 25 minutes, or until puffed, golden around the edges, and set in the middle. It will just be beginning to pull away from the edges of the pan. Don't over cook these eggs, it's better to take them out sooner than later. If your oven runs hot, pay special attention.
Serve the frittata garnished with the pea sprouts. Note: the sprouts will wilt with the heat of the eggs, so you can add them to each slice individually as you serve the frittata, or serve them on the side so people can add them themselves.