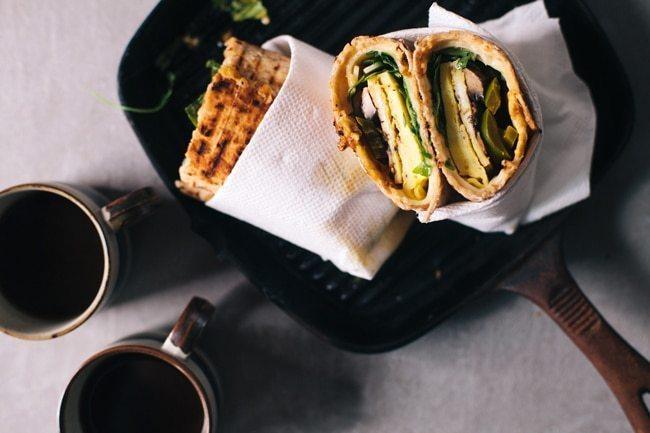 Spicy Egg and Mushroom Wrap (aka. The Hangover Cure)
Recipe by Brewing Happiness
Visit website
---
---
This Spicy Egg and Mushroom Wrap is a healthy-ish way to cure a hangover. It's also just a really, really delicious breakfast wrap! YOU WANT IT.
---
---
Ingredients
2 whole wheat lavash wraps

((sub regular tortillas))

4 eggs

1 portobello mushroom, sliced into thin strips

3 tablespoons soy sauce

((sub liquid aminos))

2½ tablespoons liquid smoke

1½ tablespoons maple syrup

1 cup arugula

((sub spinach))

pickled jalapenos

3 slices provolone cheese

⅓ cup vegan mayo

½ teaspoon Sriracha

½ teaspoon honey
---
---
Method
Preheat your oven to 350.
In a small bowl mix together soy sauce, liquid smoke and maple syrup.
Lay your sliced portobello mushroom flat on a greased baking sheet, and pour the soy sauce mixture over it.
Bake the mushrooms for 20 minutes, flipping halfway.
While your mushroom is baking, prep the rest of the wrap by mixing together your vegan mayo, Sriracha, and honey in a small bowl and setting aside.
Then, heat a greased skillet over medium-low heat. Crack your eggs in a bowl, and whisk them together until they are solid yellow.
Pour your eggs into the greased skillet, season with salt and pepper to taste, and wait until the entire bottom of your egg is solid. Flip the eggs over, trying to keep it all in one solid circle and cook for a few more seconds. Take off heat and set aside.
Now you are ready to assemble! Spread a layer of spicy mayo over 1/2 of each wrap. Add 1 1/2 slices of provolone to each wrap (making sure some of the cheese lines up with the edge of the wrap - this will help it stick together when you grill it!) Top each wrap with equal arugula and mushroom slices.
Slice your egg circle into two semi circles, then fold those in half, and place your eggs in the center of each wrap. Top with pickled jalapenos, and fold the wrap together, making sure your cheesy edge is on the outside. (You might want to use a toothpick to keep if from opening.)
Heat a grill pan (or regular pan) over medium-high heat. Grill each wrap for 1-2 minutes on each side.
Slice your wraps in half and serve!
EAT UP.