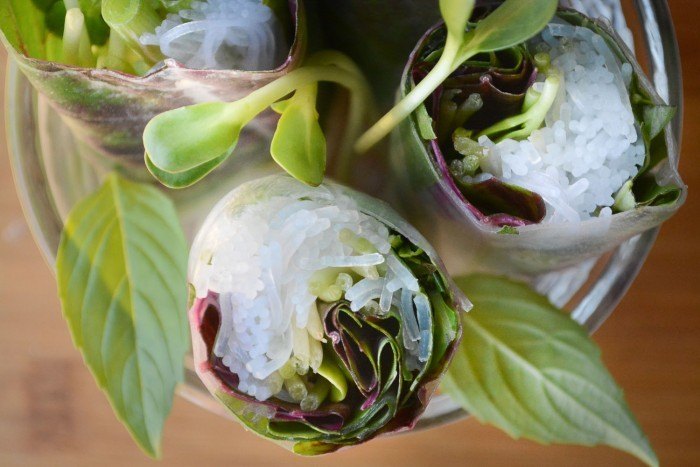 Spinach and Basil Summer Rolls
Recipe by The View From the Great Island
Visit website
---
---
Spinach and Basil Summer Rolls are a super refreshing, gluten free appetizer or light dinner.
---
---
Ingredients
1 bunch Chinese spinach (or regular spinach) washed and dried

1 bunch basil leaves

(washed and dried)

1 handful sunflower or pea sprouts

8 very thin spring onions

(trimmed)

about 2 oz dried bean thread noodles, soaked and drained according to the package directions

8 spring roll wrappers (you can find them online (or 2 tsp bottled minced lemongrass)
---
---
Method
Set out a plate or wide shallow pie pan and add about 1/4 inch of water.
Pluck the best leaves off of the spinach and basil stems and set aside.
Cut the spring onions to a length of about 5 inches, so they will fit in the rolls. If they are not super slender, slice them lengthwise into strips.
Working one at a time, soak a wrapper in the water for 15 seconds. Put it down on a flat surface such as your counter-top and arrange the veggies and rice noodles in the center of the wrapper. Lay the largest leaves down first, then the bean threads, and the spring onions and sprouts.
Bring the bottom of the wrapper up over the filling, and fold in both sides as well. Continue to roll it up tightly, like a cigar.
Slice each roll in half with a sharp knife. Keep the finished rolls under a damp paper towel while you make the rest.
Serve with coconut lemongrass dip.
To make the dip, trim the long stalk from the lemongrass and peel away the tough outer layers. Mince the soft inner core, there will only be about an inch or two to mince. Mix the coconut milk, lime and lemongrass together. Serve cold.