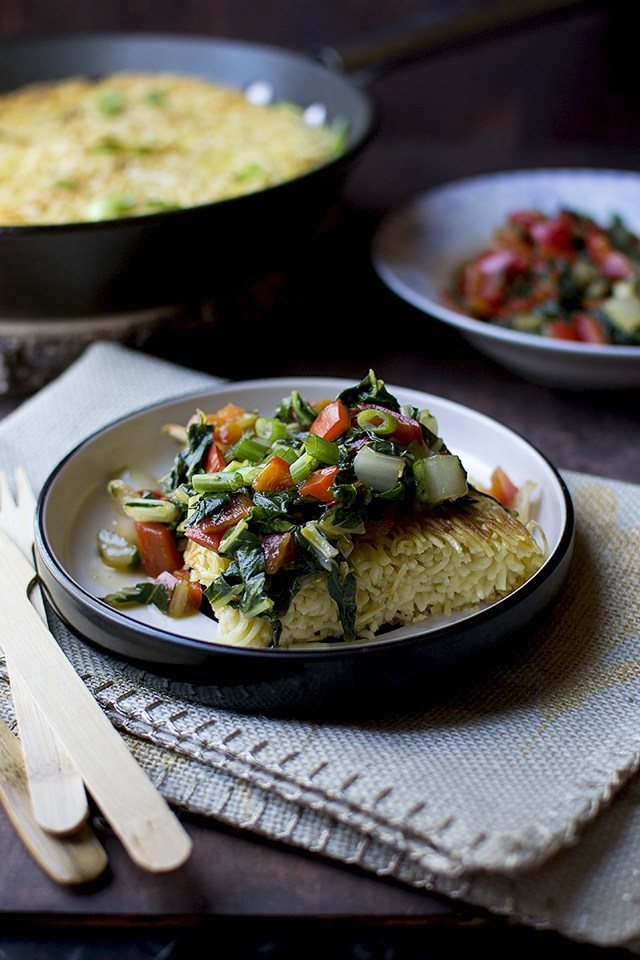 Stir fried Bok Choy with Noodle Cake
Recipe by Cook's Hideout
Visit website
---
---
---
---
Ingredients
8 oz Fresh Chinese Noodles
3 scallions
4 tbsp oil
1 tbsp freshly grated ginger
2 garlic clove
1 small head Bok Choy, stalks cut in ¼" slices and greens cut into ½" strips
1 medium Red Pepper, cut into ¼"strips
to taste Salt
0.25 cup vegetable broth
2 tbsp soy sauce
1 tbsp Vegetarian Oyster Sauce
2 tsp dry sherry
1 tsp sugar
1 tsp cornstarch
to taste Red Pepper flakes
---
Method
Whisk all the ingredients for the sauce in a small bowl.
Bring a large pot of water to a boil, add the noodles and 1tbsp slt and cook, stirring often, about 2~3 minutes. Make sure not to overcook.
Drain thoroughly. Add scallions and ½tsp salt to the noodles. Toss well to combine.
Preheat the oven to 200°F. Place a wire rack on a baking sheet and keep ready.
Heat a large nonstick skillet with 2tbsp oil over medium heat until shimmering. Add the noodles and press into cake with spatula. Cook until crisp and golden brown on the bottom, about 5~8 minutes.
Slide the cake onto a large plate. Add 1tbsp more oil to the pan; invert the cake to cook the other side. Cook for 5~8 minutes or until crisp and golden. Slide the cake onto the prepared wire rack and place it in the oven to keep warm.
Add the remaining 1tbsp oil to the same pan, along with ginger, garlic and cook till fragrant, about 30 seconds.
Next add the bok choy stalks and bell pepper; cook until crisp-tender about 2~3 minutes.
Stir in bok choy greens and cook till wilted about 1~2 minutes.
Add the sauce and cook till thickened, about 1 minute. Serve hot over noodle cake.