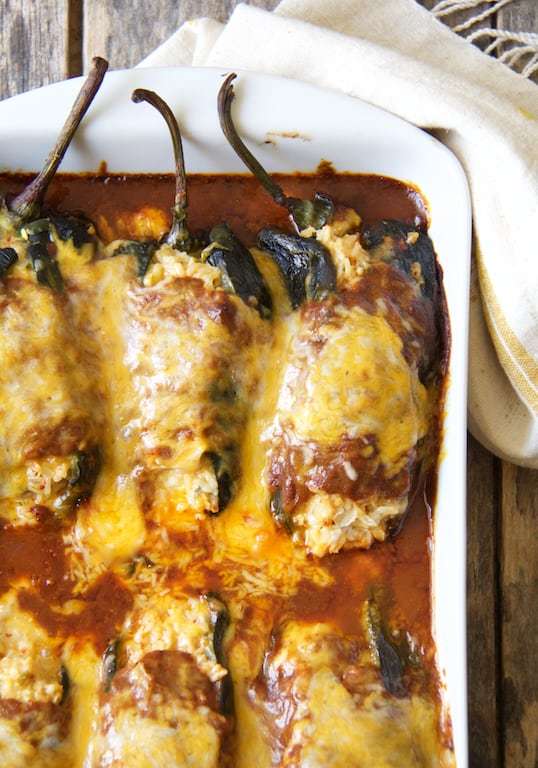 Chicken, Brown Rice and Cheese-Stuffed Poblanos
Recipe by From a Chef's Kitchen
Visit website
---
---
THESE stuffed poblanos! Chicken, brown rice and two types of cheese are enveloped in earthy, roasted Poblano peppers, topped with a red chile sauce and yes, more cheese!
---
---
Ingredients
peppers
6 large Poblano peppers
2 tablespoons canola oil
1 medium onion
4 cloves garlic
1 container (8-ounce) jalapeno-flavored cream cheese spread
2 cups cooked, shredded chicken
2 cups cooked brown rice
2 cups shredded Mexican blend cheese
sauce
2 tablespoons unsalted butter
2 tablespoons all-purpose flour
2 cups chicken broth
2 tablespoons tomato paste
2 tablespoons chili powder
1 teaspoon ground cumin
1 teaspoon ground coriander
salt and freshly ground black pepper
salt and freshly ground black pepper
sour cream
---
Method
PEPPERS: Preheat oven to 450 degrees. Position a rack close to the heating element, top or bottom. Place peppers on a baking sheet and roast 30 to 40 minutes, turning several times until blistered in numerous places. Immediate cover with foil and let sit for 30 minutes.
Reduce oven temperature to 375 degrees.

While peppers are roasting and steaming, heat oil in a skillet or saute pan. Add onion and cook 6 to 8 minutes or until softened. Add garlic and cook very briefly (15 seconds). Remove from heat and stir in cream cheese spread. Stir until smooth and melted.
Stir in cooked chicken, brown rice, 1 cup shredded cheese and salt and black pepper to taste. Set aside.
Peel as much of the thin, papery skin from the peppers as possible. Cut a slit in the top and carefully remove seeds, leaving stem intact. (Don't worry if the pepper tears slightly; you can wrap around filling and cover with sauce….no one will notice.)

Oil a baking dish large enough to hold all the peppers.
SAUCE: In a medium saucepan, heat butter over medium-high heat. Stir in flour, reduce heat to medium and cook 2 to 3 minutes. Slowly add chicken broth, stirring constantly. Bring to a boil, reduce heat to medium and add tomato paste and spices. Simmer until thickened (it won't be terribly thick; I preferred it this way).

Pour about ½ cup sauce in the bottom of prepared baking pan.

Fill peppers with even amounts of the filling and place in prepared baking dish. Pour remaining sauce over the top. Top with remaining cheese. Cover loosely with aluminum foil.

Bake 25 to 30 minutes. Remove foil and continue baking 5 to 10 minutes or until cheese has melted and filling is heated through to 165 degrees.
Serve with sour cream if desired.