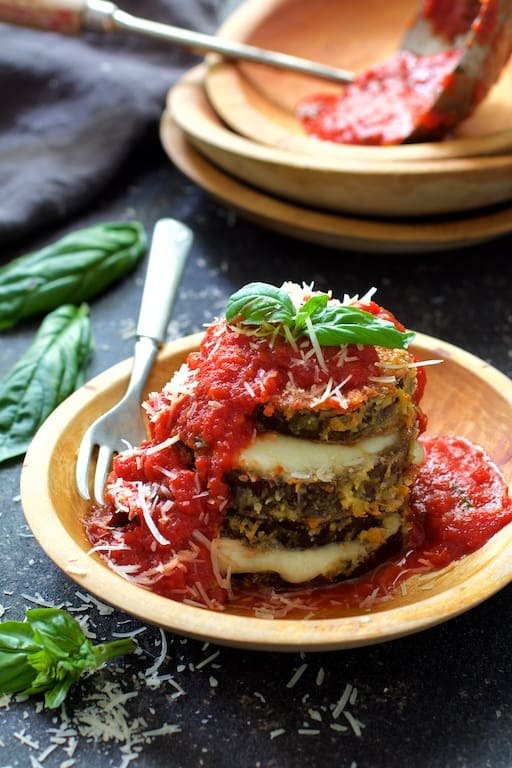 Eggplant Parmesan Stacks
Recipe by From a Chef's Kitchen
Visit website
---
---
Eggplant Parmesan Stacks are a fresher and lighter way to enjoy an Italian classic!
---
---
Ingredients
eggplant
cooking spray
1 medium eggplant
0.5 cup all-purpose flour
salt and freshly ground black pepper
3 eggs
1 cup freshly grated Parmesan cheese
0.33333333333333 cup Italian-style breadcrumbs
0.33333333333333 cup panko
sauce
2 tablespoons olive oil
2 large tomatoes,
4 cloves garlic
1 can (28-ounce) crushed tomatoes
1 teaspoon crushed red pepper flakes, or to taste
0.25 cup thinly sliced fresh basil
salt and freshly ground black pepper
to FINISH
oil or cooking spray for baking dish
8 ounces fresh mozzarella
fresh basil sprigs
freshly grated Parmesan cheese
---
Method
EGGPLANT
Preheat oven to 375 degrees.
Prepare a non-stick baking sheet by spraying it with cooking spray. Alternately, line a baking sheet with non-stick aluminum foil and spray with cooking spray. Set aside.
Place all-purpose flour on a plate and season with salt and black pepper. Place eggs in a small bowl and season with salt and pepper. Combine Parmesan cheese, breadcrumbs and panko in another bowl.
Dredge eggplant slices in flour. Dip in beaten egg then coat with breadcrumb mixture. Place on prepared baking sheet.
Bake for 12-15 minutes. Flip eggplant slices and bake an additional 10-12 minutes or until both sides are golden and eggplant is tender.
SAUCE
While eggplant is baking, prepare sauce. Heat olive oil over medium-high heat. Add the tomato, reduce heat to medium-low and cook 5-7 minutes or until tomato is soft. Add garlic and cook 1 minute. Add crushed tomatoes and crushed red pepper flakes. Simmer 10 minutes.
Stir in fresh basil and keep warm.
TO FINISH
Prepare a baking dish with oil or cooking spray.
Set four of the largest eggplant rounds in the baking dish. Place a piece of cheese on each of the rounds, followed by another eggplant round, another piece of cheese, eggplant round, ending with cheese on the top. (If you end up with four layers on two of the stacks, that's okay. A heartier appetite will appreciate it!)
Cover loosely with aluminum foil and bake 10-15 minutes or until cheese has melted.
Top with tomato sauce. Sprinkle with additional parmesan cheese and garnish with fresh basil sprigs and serve.