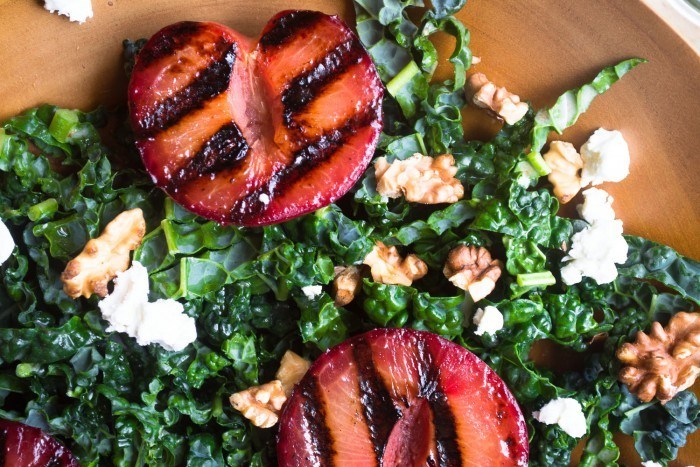 Grilled Plumcot Salad with Toasted Walnut Vinaigrette
Recipe by The View From the Great Island
Visit website
---
---
My grilled plumcot salad with toasted walnut vinaigrette is the ultimate summer salad.
---
---
Ingredients
four handfuls of finely shredded kale

2 plumcots,

⅓ cup toasted walnuts

(plus a palmful for the dressing)

approximately 1/3 cup goat cheese

(crumbled)

vegetable oil for brushing onto the fruit

toasted walnut vinaigrette

5 tbsp good olive oil

(Extra Virgin)

2 tbsp champagne vinegar

(or other mild white vinegar)

1 tsp grainy Dijon mustard

2 tbsp toasted walnuts

of salt
---
---
Method
Set oven to 350F
First toast the walnuts. Spread them out on a baking sheet and bake for about 10 minutes until fragrant. Let them cool.
Slice the plumcots in half with a sharp knife and remove the pit. Heat a grill pan on medium high heat until quite hot. Brush each half of the fruit lightly with oil and place face down on the grill. Don't move for about 2 minutes. You can press down slightly with a spatula if you like, to insure good contact with the grill. Remove the fruit to a plate.
Put the kale at the bottom of a salad bowl Toss the kale with a little bit of the dressing, making sure all the surfaces get coated.
Sprinkle the kale with about 1/3 cup of the toasted walnuts, and the goat cheese.
Arrange the stone fruit on the salad and drizzle liberally with the dressing. Serve immediately.
To make the dressing, put all the ingredients in a small food processor and process until blended and creamy. Taste to adjust any of the ingredients to your liking.