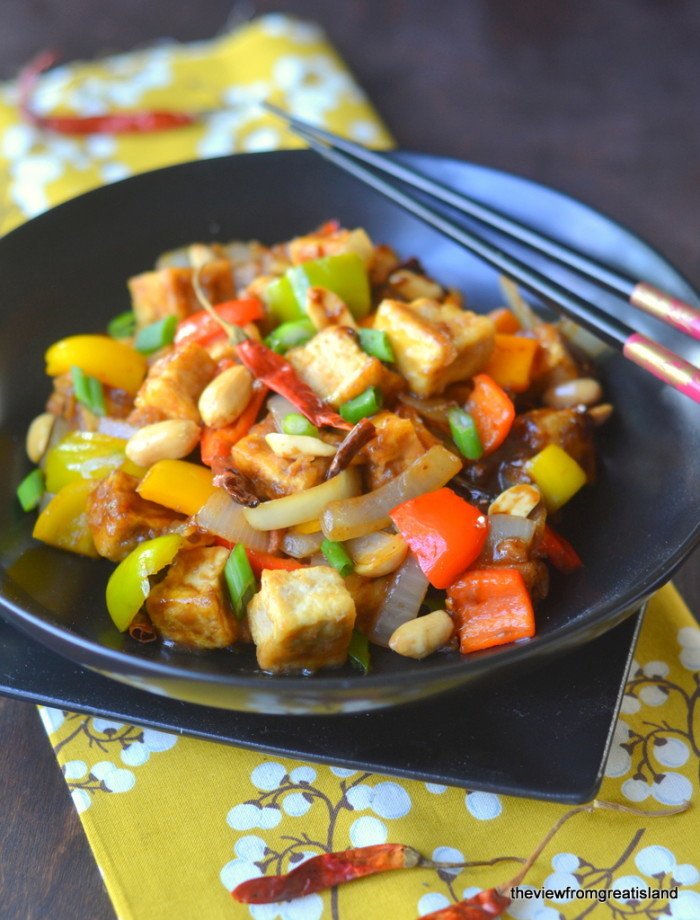 Kung Pao Tofu
Recipe by The View From the Great Island
Visit website
---
---
Kung Pao Tofu is a zesty meatless meal that goes way beyond your favorite take-out dish!
---
---
Ingredients
14 oz tofu

(I used about 3/4 of the block of tofu)

½ cup all purpose flour

1 tsp salt

vegetable oil for frying

1 tbsp chopped dried hot peppers

(to taste)

2 cloves garlic

( peeled and minced)

2 inch piece of ginger

(peeled and grated)

2 cups sliced onion

(about 1 medium)

2 cups of colorful bell peppers

( chopped)

1 cup raw peanuts

(you can use roasted unsalted if you like)

for the sauce

2 tbsp packed brown sugar

2 tbsp hoisin sauce

2 tbsp balsamic vinegar

2 tbsp soy sauce

1 tsp Szechuan pepper

(freshly ground, if possible)

2 tsp cornstarch

2 tsp sesame oil

¼ cup water

garnish

sliced green onions
---
---
Method
Cut the tofu into 1/2 inch cubes, and set on paper towels to absorb excess moisture.
Mix the flour and salt together in a small bowl.
Heat several inches of oil in a pot to a temperature of 350F.
Working in batches, dredge the tofu in the flour, lightly coating all sides and shaking off excess. Drop into the hot oil and fry for a couple of minutes, until it just turns a light golden brown. Drain on paper towels. Work in small batches so you don't crowd the pan, and dredge the tofu just before dropping in the oil --- don't do that ahead of time.
Mix all the sauce ingredients together in a bowl and set aside.
Coat the bottom of a wok lightly with vegetable oil and heat over medium high heat. Stir fry the hot peppers, ginger and garlic for a minute or so until fragrant.
Add the onions and stir fry until they start to soften, and then add the sweet peppers. Stir fry a few minutes longer, just until the peppers become glossy and bright, don't over cook them.
Add the peanuts to the pan, and then the tofu. Heat through, stirring very gently so you don't break the tofu.
Push the contents of the wok to one side and add the sauce. Quickly bring the sauce to a boil, stirring constantly. It will start to thicken as it heats. Mix the sauce into the rest of the ingredients, again moving everything around gently so you don't break the delicate tofu. You are just looking to heat everything through. Add more water to the pan at this point if the sauce seems too thick.
Serve hot with rice, or on its own. Garnish with sliced scallions if desired.