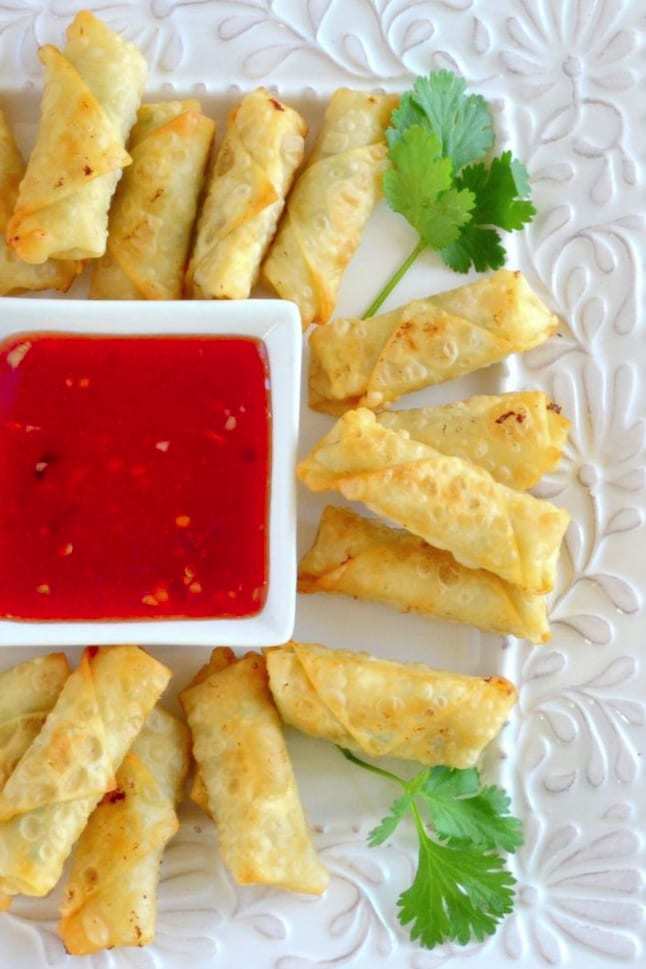 Mini Shrimp Rolls with Homemade Plum Sauce
Recipe by The View From the Great Island
Visit website
---
---
Mini Shrimp Rolls with Homemade Plum Sauce ~ crisp rolls filled with shrimp, fresh ginger, and spring onion, with a tangy plum sauce ~ better than take-out!
---
---
Ingredients
¼ lb cooked shrimp

1 tbsp fresh grated ginger

½ cup water chestnuts

1 spring onion, trimmed and rough chopped

¼ cup cilantro

salt and fresh cracked pepper to taste

24 square wonton wrappers

vegetable oil for frying

plum sauce

1 cup plum jam

(see recipe below)

1 clove garlic

(finely minced)

2 tbsp chili sauce

1 tbsp white vinegar

1 tbsp grated fresh ginger

plum jam

7 plums, (about 1 lb 5 oz) peeled and chopped

2 cups sugar

Lemon juiced
---
---
Method
In the bowl of a small food processor put all the above ingredients and pulse till finely minced. Do it by hand if you have the patience.
Set out a wonton wrapper on point. Place 1 tsp of the filling on the wrapper. Bring up the bottom corner over the filling, then fold in the sides, and continue rolling. Moisten the top corner with a wet finger and finish the wrap. Set aside on a plate while you wrap all the rolls.
Heat 1/4 inch of vegetable oil in a large skillet until hot. You will see the oil quiver on the surface and hear a sizzle when you place the rolls in the hot oil.
Fry the rolls, in batches, for about 2-3 minutes, or until golden brown, turning once halfway through. Drain on paper towels.
If you are making these ahead, you can reheat in a 350 degree oven for several minutes.
To make the plum jam: Put all the ingredients in a saucepan and bring to a boil. Simmer the jam, uncovered, for about 30 minutes, or until thickened and glossy. Stir occasionally.
Keep a small plate in the freezer while the jam cooks. To test when the jam is done, take the plate out and spoon a drop of the hot liquid onto it. Let it sit for a minute and then push it with a spoon to see whether the jam has 'gelled'. If so, it's ready, if not, keep boiling.
Pour the finished jam into a container and let cool. Refrigerate. (makes 2 cups)
To make the plum sauce: Heat the ingredients in a small saucepan, starting with 1 Tbsp of the vinegar. Bring the sauce to a boil, then turn off the heat. Taste and adjust the seasoning if necessary, you want a nice sweet and sour tang. Let it cool, then bottle it and refrigerate until needed.