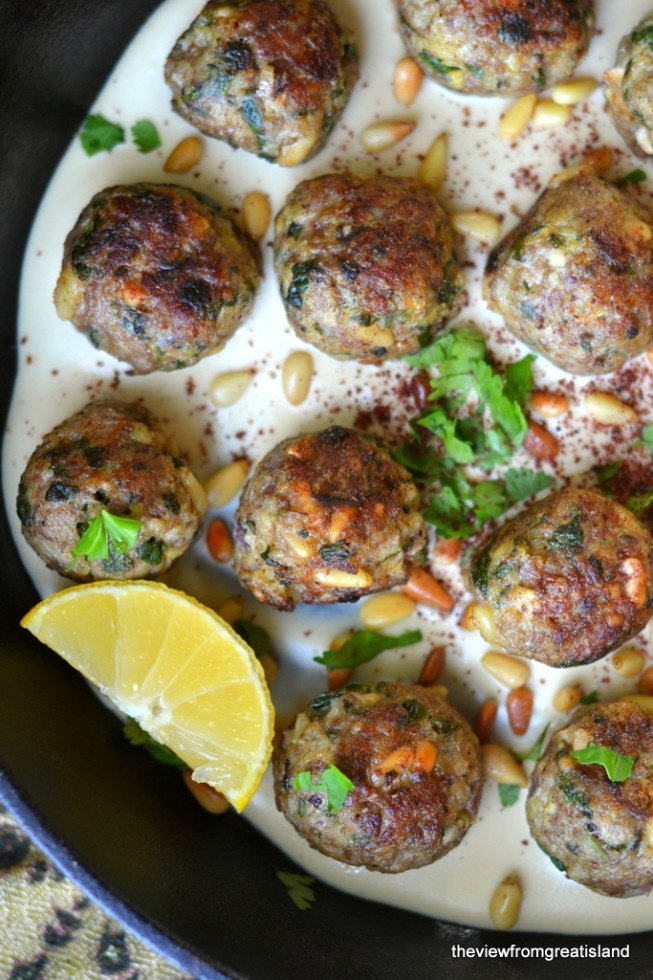 Moroccan Lemon and Cardamom Meatballs
Recipe by The View From the Great Island
Visit website
---
---
Moroccan Lemon and Cardamom Meatballs ~ these lemony cardamom spiced lamb meatballs nestled in creamy tahini sauce will become your new favorite meal!
---
---
Ingredients
for the meatballs
1 lb ground lamb
0.5 medium red onion, very finely minced
2 cloves garlic
a 2 inch piece of fresh ginger, peeled and grated or finely minced
0.25 cup plain dry bread crumbs
1 large egg,
a handful of fresh parsley leaves
of fresh cilantro leaves
of fresh mint leaves
zest of two lemons
0.5 cup pine nuts
0.5 cup fresh feta cheese, finely crumbled
1 tsp salt
1 tsp fresh cracked pepper
0.5 tsp cinnamon
1 tsp freshly toasted and ground cardamom*
olive oil for frying
for the sauce
0.66666666666667 cup Tahini
Lemon juiced
0.75 tsp salt
water
garnish
pine nuts
chopped parsley, cilantro, or mint
a sprinkling of smoked paprika, or sumac
---
Method
Set oven to 350F
Place the lamb, onion, garlic, ginger, bread crumbs, beaten egg, fresh herbs, lemon zest, pine nuts, feta cheese, cinnamon, cardamom, and salt and pepper into a large bowl. Mix everything together using your fingertips. You want to get all the ingredients evenly distributed without compacting the meat.
Form walnut sized meatballs from the mixture. You can do this several hours ahead of time if you want, but be sure to cover the meat completely with plastic wrap and refrigerate until needed.
Cover the bottom of a heavy pan with the olive oil and heat until hot. Work in batches so you don't crowd the pan, and brown the meatballs on all sides. Add more oil as necessary.
Place the meatballs on a baking sheet and bake for about 12 minutes, or until cooked through. (Ground lamb should be cooked to about 160F)
Meanwhile make the sauce by mixing the tahini and lemon juice, and then adding enough water to make a thin sauce. Salt it to taste.
Serve the meatballs hot from the oven, nestled in the sauce. Garnish with more pine nuts, herbs, and a sprinkling of sumac or paprika.