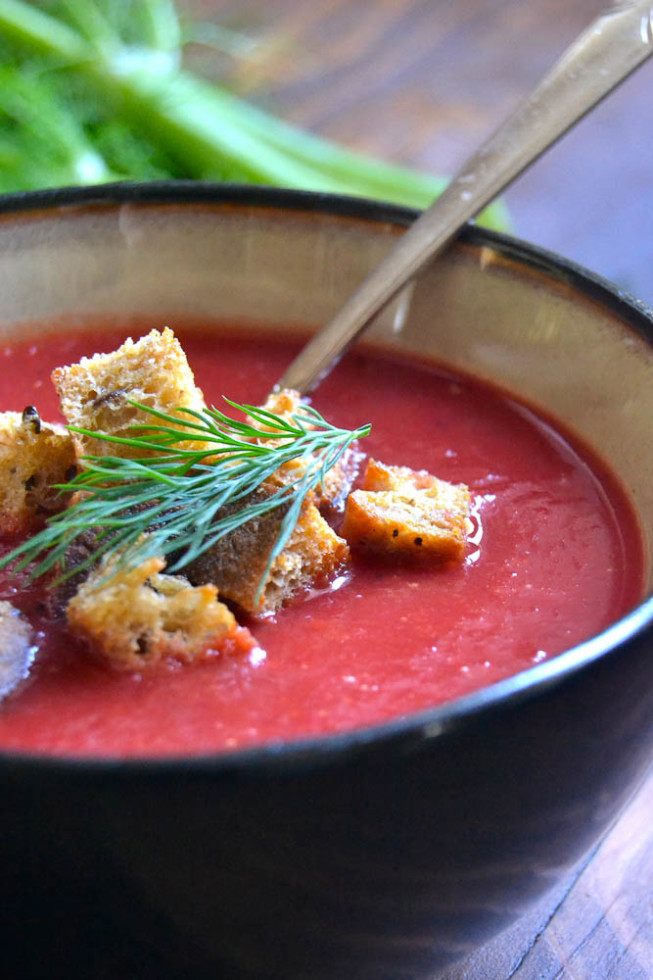 Roasted Winter Vegetable Soup
Recipe by The View From the Great Island
Visit website
---
---
My healthy Roasted Winter Vegetable Soup is the most gorgeous shade of crimson you've ever seen! This comforting vegetable soup is full of vitamins and antioxidants.
---
---
Ingredients
3 tbsp olive oil
1 small butternut squash, cut in half lengthwise, seeds removed.
1 large or a few small beets, halved lengthwise
1 large leek, trimmed and halved lengthwise
1 bulb fennel, leafy top trimmed and halved lengthwise
2 large shallots
32 oz chicken stock
1 large clove garlic, peeled and smashed
1 thumb sized piece of fresh ginger
2 small white potatoes
1 tsp fennel seeds
0.5 tsp salt
0.5 tsp fresh cracked black pepper
garnish
dill or fennel fronds
shredded Gruyere cheese
homemade croutons
---
Method
Set oven to 375F
Coat the surface of a baking sheet with olive oil. Arrange the squash, beet, leek, fennel and shallots on the sheet and roast for about 40 minutes until the squash can be pierced easily with the tip of a sharp knife.
Remove the soft veggies from the pan and continue roasting anything that is not soft for another 20 minutes, or until softened.
Scoop the flesh from the squash and add to a heavy bottomed soup pot. Peel the skin from the beet, remove any tough outer leaves from the leek, and remove the core from the fennel. Give everything, including the shallots, a rough chop and add them to the pot.
Pour 3 cups of the stock into the pot, along with the garlic, ginger, potatoes, fennel seeds, salt and pepper. Bring everything up to a boil. then lower the heat and simmer, partially covered, for about 20-30 minutes.
Use an immersion blender to blend the contents of the pot smooth. Add the rest of the stock to thin the soup and bring back to a simmer. Taste and adjust the seasonings, and then serve hot, topped with croutons, grated Gruyere cheese, and a sprig of fennel or dill.