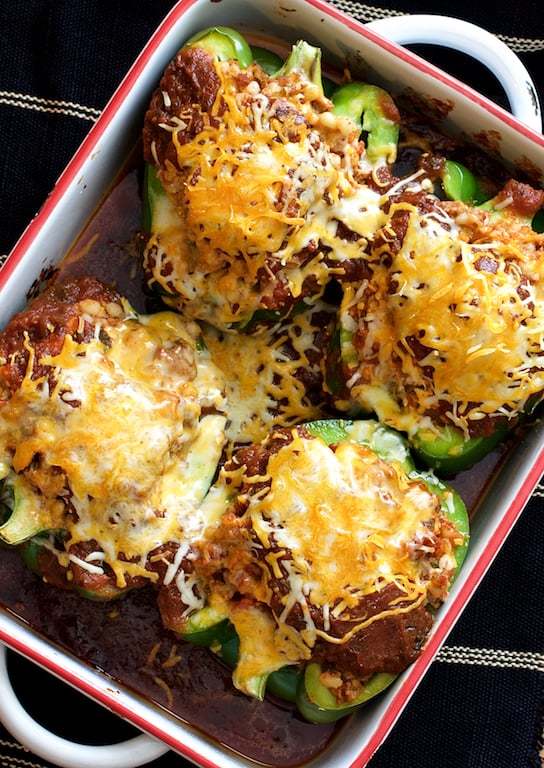 Southwestern Beef and Barley-Stuffed Bell Peppers
Recipe by From a Chef's Kitchen
Visit website
---
---
Beef and barley are a match made in culinary heaven! Here, this hearty combo fills bell peppers for a hearty Southwestern-inspired meal!
---
---
Ingredients
4 large green bell peppers, halved top to bottom and hollowed out
2 tablespoons olive or canola oil plus more to oil the pan
0.5 cup pearl (or pearled) barley
salt
1 medium onion
4 garlic cloves
2 tablespoons chili powder
2 teaspoons ground cumin
2 teaspoons ground coriander
2 teaspoons Mexican oregano
0.5 teaspoon cayenne pepper
1 can (15-ounce) tomato sauce
1 can (14.5-ounce) beef broth
freshly ground black pepper
1.25 pound ground beef
1 large egg
2 cups shredded Cheddar or Mexican blend cheese
sour cream
---
Method
Preheat oven to 375 degrees.
Place peppers in an oiled baking dish and bake for 20 minutes. Let cool and pour out any water that accumulated in the bottom of the pepper.
Meanwhile, bring a small pot of water to a boil. Add salt to taste and add barley. Cook until al dente (tender but with some bite). Drain, rinse with cold water, drain again and set aside.
Heat 2 tablespoons oil in a skillet or saute pan. Add the onion and cook 7-8 minutes or until softened. Add garlic, chili powder, cumin, coriander, oregano and cayenne pepper. Stir, then add tomato sauce and beef broth. Bring to a boil, reduce heat and simmer 5 minutes or until thickened slightly. Season to taste with salt and black pepper.
Transfer 1 cup of the sauce to a large bowl and let cool. Add the barley, beef, egg, 1 cup cheese and mix well.
Fill peppers with equal amounts of the filling. Pour sauce over the peppers, cover with foil and bake 40-45 minutes or until cooked through to 165 degrees in the center.
Top with cheese, return to the oven and bake another 10 minutes or until cheese has melted.