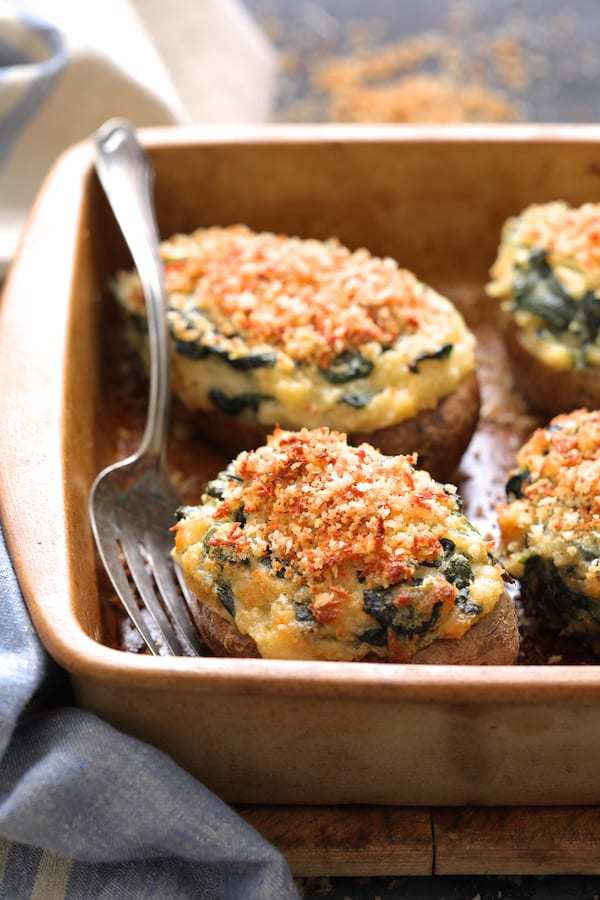 Spinach Parmesan Ranch Twice Baked Potatoes
Recipe by From a Chef's Kitchen
Visit website
---
---
Spinach Parmesan Ranch Twice Baked Potatoes with Parmesan Crumb Topping are pillows of potato perfection!
---
---
Ingredients
potatoes
4 large baking potatoes, preferably Russets, scrubbed
5 tablespoons unsalted butter
1 bag (10-ounce) baby spinach
4 cloves garlic
salt and freshly ground black pepper
0.5 heaping cup freshly grated Parmesan cheese
0.33333333333333 cup ranch dressing
0.33333333333333 cup half and half
olive oil for baking dish
crumb TOPPING
2 tablespoons butter
1 clove garlic
2 tablespoons freshly grated Parmesan cheese
2 tablespoons panko
salt and freshly ground black pepper
---
Method
Preheat oven to 375 degrees. Poke numerous holes in each potato and set the potatoes directly on the oven rack or on a baking sheet. Bake for 1 to 1 and 1/2 hours or until easily pierced with a knife. Do not let the potatoes cool too much.
Heat 1 tablespoon butter in a skillet or saute pan over medium-high heat. Add the spinach and garlic and cook until wilted. Season to taste with salt and black pepper. Tilt the pan and let any excess liquid drain off.
Melt the remaining 4 tablespoons butter in a large bowl.
Cut the top off each potato. Scoop the flesh from each potato into a potato ricer and force the flesh into the melted butter. Stir to blend.
Add the Parmesan cheese, ranch dressing and half and half. Season to taste with salt and black pepper. Stir in spinach.
Fill each potato back up with the prepared filling. Top with crumb topping.
Return to the oven and bake 25 to 30 minutes or until heated through and crumb topping is browned.
Lightly oil a baking dish.
CRUMB TOPPING
Combine all ingredients in a small bowl.