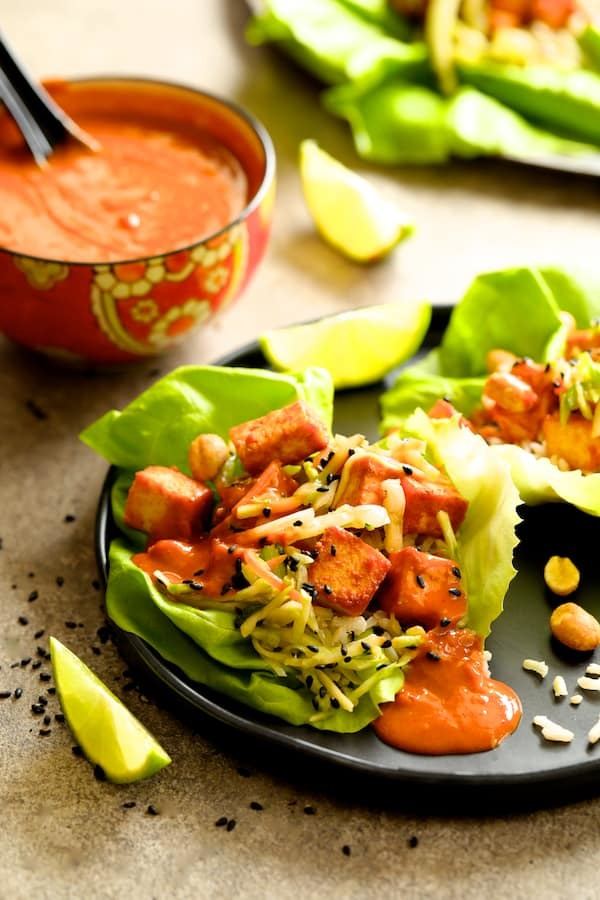 Vegan Korean Tofu Lettuce Wraps with Tahini Gochujang Sauce and Spicy Slaw
Recipe by From a Chef's Kitchen
Visit website
---
---
Vegan Korean Tofu Lettuce Wraps with Tahini Gochujang Sauce and Spicy Slaw are the fun, flavorful and healthful way to get your Korean food fix!
---
---
Ingredients
tofu
1 package (14-ounce) firm or extra-firm tofu
1 tablespoon canola oil
slaw
1 package (10-ounce) broccoli slaw
2 cups shredded cabbage
1 bunch scallions,
1 jalapeno or serrano pepper
0.25 cup fresh lime juice
3 tablespoons soy sauce or tamari
2 tablespoons canola oil
2 tablespoons sesame oil
2 tablespoons sugar
1 teaspoon minced ginger
2 cloves garlic
2 tablespoons black sesame seeds
sauce
0.5 cup Tahini
0.25 cup water
6 tablespoons gochujang
3 tablespoons soy sauce or tamari
2 teaspoons minced ginger
2 cloves garlic
for SERVING
large Boston lettuce leaves
hot, cooked brown rice or brown rice noodles
Peanuts
lime wedges
black sesame seeds
---
Method
PREPARE TOFU: Drain tofu and cut into six large "planks." Place on paper towels. Top with more paper towels then place a sheet pan over the tofu. Place a heavy object such as a large cookbook or heavy bowl on the sheet pan to drain and squeeze as much water out of the tofu as possible. After 1 hour, cut tofu into cubes.
SLAW: Combine broccoli slaw, cabbage, scallions and pepper in a bowl. Whisk together lime juice, soy sauce, oils, sugar, ginger and garlic. Pour over slaw ingredients. Add sesame seeds and toss.
SAUCE: Whisk sauce ingredients together in small bowl.
COOK TOFU: Heat oil in a nonstick skillet or saute pan over medium high heat. Add the cubed tofu and 2 tablespoons of the tahini gochujang sauce. Stir, then toss the tofu around to brown it.
TO SERVE: Place lettuce leaves on a platter. Top with brown rice, the tofu, the slaw, some of the sauce and peanuts (if desired). Serve with lime wedges and garnish with sesame seeds.