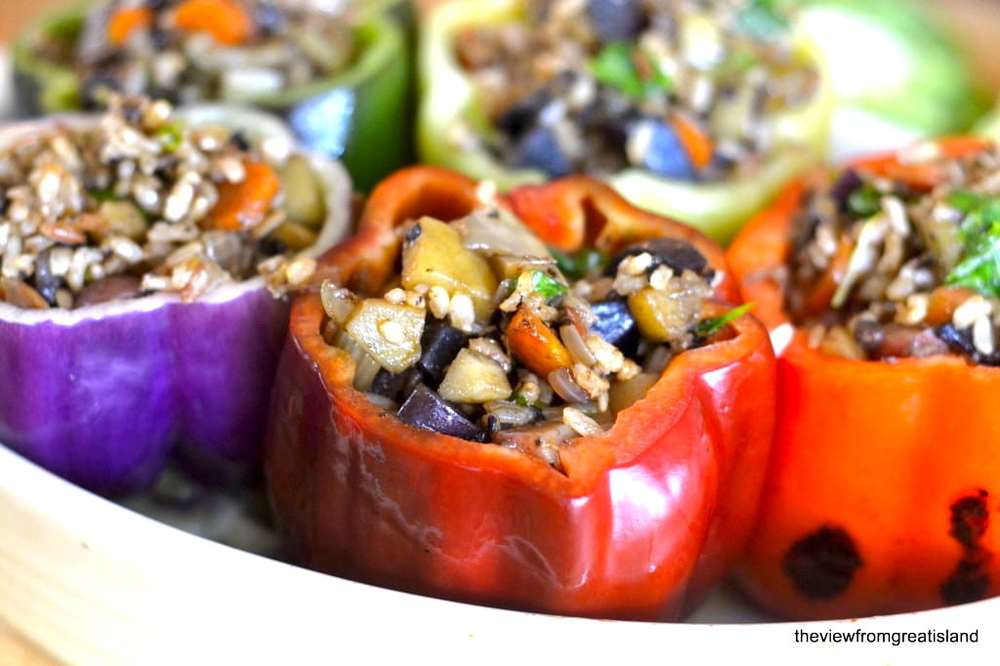 Vegetarian Stuffed Peppers
Recipe by The View From the Great Island
Visit website
---
---
Vegetarian Stuffed Peppers ~ why should meat eaters get all the comfort food? These colorful stuffed peppers are meatless and delicious!
---
---
Ingredients
5 colorful bell peppers

(try to find similar sized, round peppers that will sit upright)

1 cup cooked red rice

(or other grain such as farro, quinoa, barley, etc)

olive oil

2 cloves garlic

(minced)

½ onion

(finely chopped)

1 cup chopped potatoes

1 parsnip

(peeled and diced)

½ tsp cumin seed

½ tsp hot smoked paprika

½ tsp chipotle chili powder

(or regular chili powder)

1 portobello mushroom

(diced)

1 small head of fennel

(finely chopped)

1 tbsp tamari sauce

1 handful of fresh greens (spinach, kale, or other) chopped

1 tbsp fresh thyme leaves

1 cup shredded sharp Cheddar cheese

salt and pepper to taste

for garnish

crumbled feta, goat, or queso fresco cheese

parsley
---
---
Method
Set the oven to 350F.
Heat 2 tablespoons of olive oil in a large skillet. Saute the onion, garlic, potato, parsnip, and spices over medium heat for a few minutes until the onions are translucent and the potato and parsnip are beginning to soften.
Add the mushroom and the fennel to the pan and saute/stir-fry for about 15 minutes until the veggies are tender.
Season to taste with the tamari sauce, salt and pepper, and then mix in the chopped greens, thyne, the rice, and cheese. Set aside.
Trim the tops off your peppers, and gently scoop out the seeds and ribs. Set the peppers into a casserole so they fit snugly together. If they don't stand upright, trim the bottoms just a bit so they do.
Fill each pepper with the stuffing, right to the top, and even mound it a bit. (At this point you can refrigerate the peppers for a make a head meal.)
Pour a little water into the bottom of the pan, about 1/4 inch deep.
Cover the whole pan with foil,crimping the edges so the peppers will steam in the oven.
Cook for about 40 minutes, or until the peppers are tender. I like my peppers on the firm side, but if you like them softer, you may need extra time in the oven.
Serve with crumbled feta, goat, or queso fresco cheese on top, and a little parsley for fresh color.