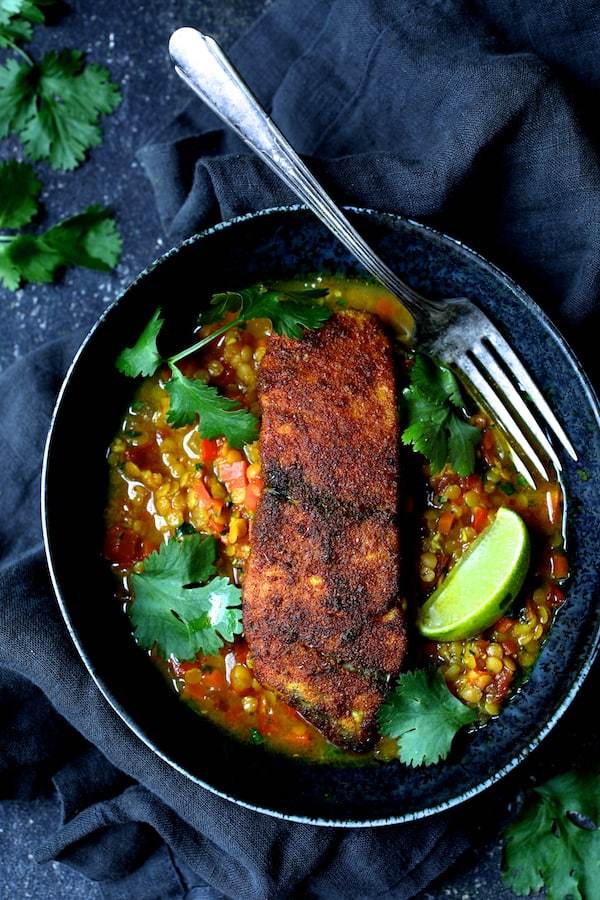 Indian Spiced Sea Bass with Braised Red Lentils
Recipe by From a Chef's Kitchen
Visit website
---
---
Indian Spiced Sea Bass with Braised Red Lentils is a healthful way to spice up a winter night!
---
---
Ingredients
lentils
2 tablespoons canola or coconut oil
0.5 large onion
1 medium carrot
1 small red bell pepper
4 cloves garlic
1 tablespoon minced ginger
1 tablespoon curry powder
2 plum tomatoes, seeded and chopped
2-3 cups vegetable or chicken broth
0.75 cup red lentils
1 tablespoon red wine vinegar
0.5 teaspoon salt
freshly ground black pepper
2 tablespoons chopped cilantro, plus more for garnish
lime wedges
Plain Yogurt
fish
1 tablespoon Hungarian paprika
2 teaspoons ground cumin
2 teaspoons ground coriander
1 teaspoon ground turmeric
0.5 teaspoon cayenne pepper
0.5 teaspoon freshly ground black pepper
0.5 teaspoon salt
2 (6-8 ounce) sea bass fillets, skinned
1 tablespoon canola or coconut oil
---
Method
LENTILS: Heat oil in a saucepan over medium-high heat. Add onion, then reduce heat to medium-low and cook 3-4 minutes or until it begins to soften. Add carrot and red bell pepper. Continue to cook 5-7 minutes or until vegetables are very soft.
Add garlic, ginger and curry powder, stir several times and cook briefly or until fragrant (no longer than 30 seconds or these can burn). Add tomatoes and vegetable broth and bring to a boil. Add lentils, reduce heat to low and simmer uncovered 20 minutes or until lentils are very tender, adding more vegetable broth if needed. Add vinegar then season to taste with salt and black pepper. Stir in cilantro and serve with fish.
FISH: Prepare salmon while the lentils cook. Preheat oven to 375 degrees. Combine paprika, cumin, coriander, turmeric, cayenne, black pepper and salt on a plate. Coat fish fillets well on all sides.
Heat oil in a skillet or sauté pan over medium-high heat. Add the fish and cook 1-2 minutes per side. Transfer to the oven and bake 10 minutes or to an internal temperature of 145 degrees and fish easily flakes with a fork.
Serve over lentils with lime wedges, plain yogurt and garnished with cilantro sprigs.