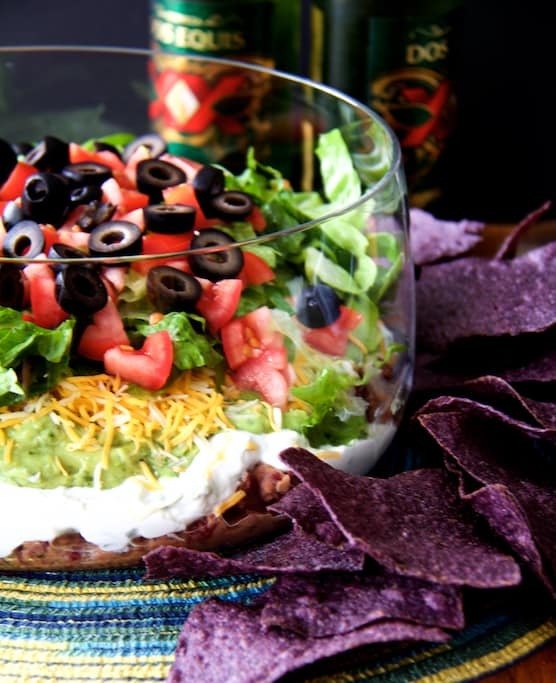 Lighter Fresher Seven-Layer Dip
Recipe by From a Chef's Kitchen
Visit website
---
---
Here's classic Seven Layer Dip made lighter and fresher! Perfect for your game day gathering--or any gathering!
---
---
Ingredients
first LAYER
1 tablespoon olive oil
2 cans (15-ounce) red kidney beans
0.5 cup salsa
2 teaspoons ground cumin
2 cloves garlic
salt and freshly ground black pepper
second LAYER
1.5 cups light sour cream or low-fat yogurt
3 scallions
1 jalapeño pepper
third LAYER
2 ripe avocados
1 tablespoon lemon juice
1 scallion
2 tablespoons cilantro
Hot sauce
salt and freshly ground black pepper
fourth LAYER
1.5 cups shredded 2% Mexican blend cheese
fifth LAYER
2 to 3 cups shredded Romaine lettuce
sixth LAYER
2 plum Tomatoes
seventh LAYER
1 can (4-ounce) sliced black olives
---
Method
FIRST LAYER: Heat olive oil over medium-high heat in a skillet or saute pan. Add the beans and saute 2 to 3 minutes. Add the salsa, cumin, garlic and salt and black pepper. Remove from heat. Using a potato masher, mash the beans. Let cool then place in the bottom of a large glass bowl.
SECOND LAYER: Combine sour cream or yogurt, scallion and jalapeno in a bowl and mix well. Carefully layer over bean layer.
THIRD LAYER: Combine avocado, lemon juice, scallion, cilantro and salt and black pepper in a food processor or blender. Pulse to combine, leaving a bit chunky. Carefully spread over sour cream layer.
FOURTH LAYER: Add the cheese.
FIFTH LAYER: Top with shredded lettuce.
SIXTH LAYER: Top with chopped tomato.
SEVENTH LAYER: Top with sliced black olives.