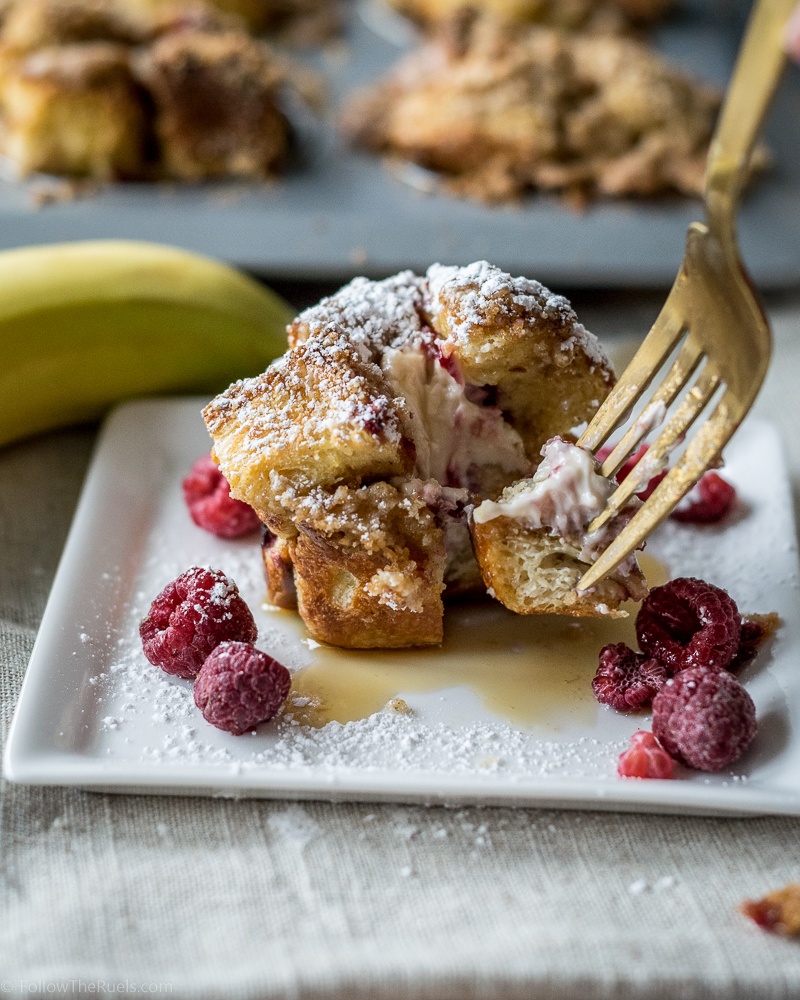 Stuffed French Toast Muffins with Raspberries
Recipe by The Honey Blonde
Visit website
---
---
Muffins are way more fun and they ensure the perfect bit of French toast every time! A little bit of that crunchy, caramelized edge with the soft and soggy center. Just like your classic French toast!
---
---
Ingredients
1 small loaf or 1/2 large loaf of Challah bread

(approx. 8 oz)

3 eggs

((beaten))

1 cup milk

1 tbsp maple syrup

1 tsp vanilla

1 tsp cinnamon

½ cup frozen raspberries

topping

¼ tbsp brown sugar

¼ cup flour

¼ tsp cinnamon

¼ tsp salt

¼ cup unsalted butter

(cubed)

filling

4 oz of cream cheese

(softened)

2 tbsp confectioners sugar

1 tbsp maple syrup
---
---
Method
Using a serrated knife, cut the Challah into 1 inch cubes, then set aside. In a large bowl, whisk together the eggs, milk, maple syrup, vanilla, and cinnamon. Add in the bread cubes and toss to coat until all the liquid has been absorbed. Cover the bowl with plastic wrap and set in the fridge for at least 1 hour, or overnight.
When ready to assemble the muffins, preheat the oven to 350 degrees. Place the raspberries fresh from the freezer into a zip top bag and smash into pieces using a large spatula or rolling pin.
Spray a muffin tin with non-stick spray, then gently press 3-4 cubes of bread into the bottom of each muffin tin. Top with a generous layer of the raspberry pieces, then top with more bread.
To make the strussel topping, add the sugar, flour, cinnamon, and salt to a small bowl then stir together with a fork. Add the butter and cut the butter into the flour mixture using two forks, a pastry cutter or your fingers. Sprinkle about 1 tbsp of strussel on top of each muffin.
Bake for 20-25 minutes, until the edges of the bread have browned.
Allow the muffins to cool on the counter. Meanwhile whisk together the filling ingredients until smooth. Transfer to a piping bag fitting with a large round piping tip or a zip top bag. Press the piping tip between two cubes of bread into the center of the muffin. Squeeze the bag while slowly lifting the bag back out of the muffin.
Serve immediately with extra maple syrup and confectioners sugar.