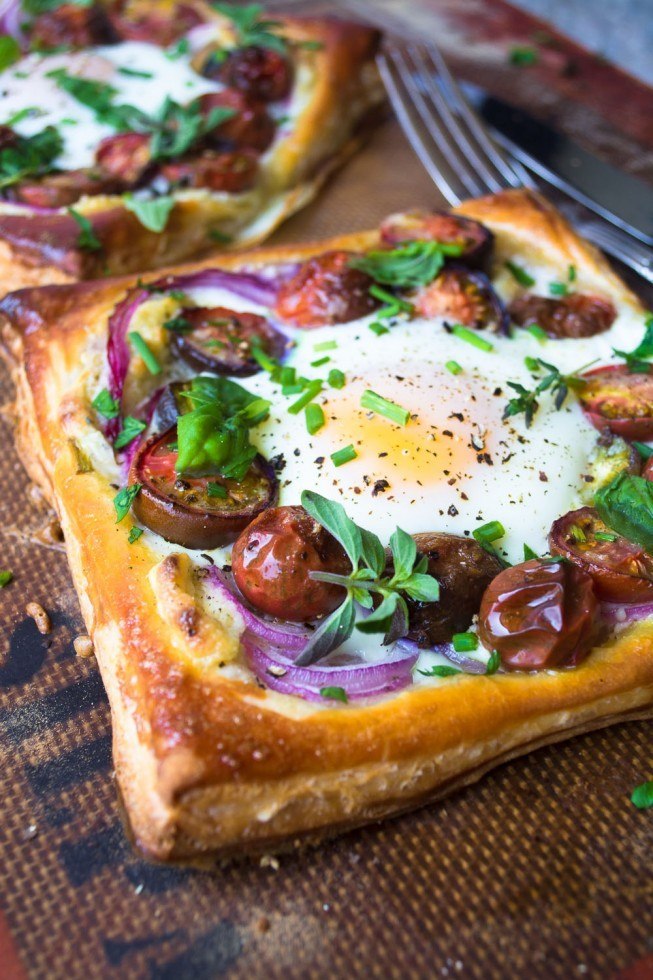 Tomato and Egg Puff Pastry Tarts
Recipe by The View From the Great Island
Visit website
---
---
Tomato and Egg Puff Pastry Tarts are a wonderfully elegant breakfast that only looks hard to put together!
---
---
Ingredients
1 sheet frozen puff pastry

1 egg

(beaten)

a package of Boursin or other herbed cheese spread

1 small red onion

(sliced paper thin)

1 pint heirloom cherry tomatoes

assorted fresh herbs

fresh cracked black pepper

olive oil for brushing

4 eggs

fresh cracked black pepper
---
---
Method
Set oven to 400F
Put dough onto a floured surface and roll out slightly to a 12x12 square. Cut the dough into four 6 inch by 6 inch squares.
Use a blunt knife to score a 1/2 inch border around each square, don't cut all the way through the dough. Prick the inside of each square with the tines of a fork, but leave the border alone. The border will puff up during cooking and form a frame.
Brush the outside edges with the beaten egg, and then spread some of the cheese across the center of each square. Arrange the onion slices and the tomatoes on top, leaving the center free for the egg, which will go there later.
Bake the squares for about 10 minutes, just until they start to puff and turn light golden.
While the pastry is cooking, crack each egg into a little cup of its own, and set aside. This will allow you to gently slide the egg onto the pastry easier.
Remove from the oven and take a minute to gently arrange each square so the center is free for the egg. Slide an egg into the center of each square. Put back in the oven carefully, and continue baking for another 10-12 minutes, just until the egg is set and the pastry is golden.
Serve hot, or at room temperature, sprinkled with fresh herbs.