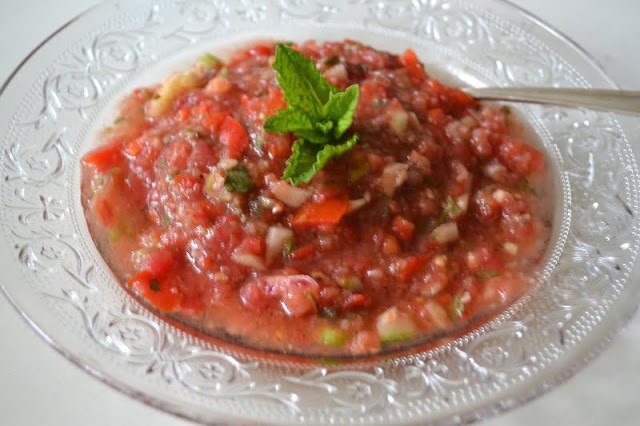 Andalusian Gazpacho
Recipe by The View From the Great Island
Visit website
---
---
Andalusian Gazpacho ~ this chilled Spanish soup is the perfect meal if you're in stuck the grip of a heatwave ~ it's easy to make and so delicious!
---
---
Ingredients
4-5 ripe red tomatoes
0.5 red bell pepper, seeded and rough chopped
0.5 green bell pepper, seeded and rough chopped
0.5 cucumber, peeled and rough chopped
0.5 red onion, peeled and rough chopped
1 clove garlic
a handful of fresh basil
a handful of fresh mint
0.33333333333333 to 1/2 cup olive oil
2 to 4 Tbsp sherry vinegar
juice of lemon
salt
fresh pepper
---
Method
Mix the tomatoes, peppers, onion and cucumber together and then blend them in a blender or food processor in batches. I do it in 3 batches and vary the degree of blending with each batch so that my soup will have some texture but a smooth base.
Put the processed veggies back in the large bowl. Now it's time to season your soup. The amounts above are approximate: taste as you go and use what you like.
Stir to blend, then cover with plastic wrap and put your soup in the refrigerator for a couple of hours or overnight.