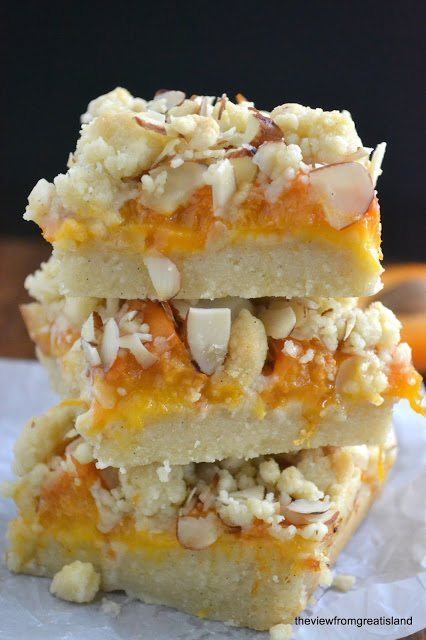 Apricot Frangipane Crumble Bars
Recipe by The View From the Great Island
Visit website
---
---
Apricot Frangipane Crumble Bars ~ these bars are easy to put together, and the flavor combination of apricot and almonds is intoxicating! They are a beautiful way to use fresh, summer apricots.
---
---
Ingredients
1 cup, 2 sticks, unsalted butter at room temperature
0.75 cup sugar
1 tsp vanilla paste or exract
1 tsp almond extract
0.5 tsp salt
2 cups all purpose flour
1 cup almond flour, or almond meal
about 6 or 7 apricots
juice of lemon
crumble topping
cuptomato paste
0.5 cup sliced almonds
---
Method
Set oven to 350F
Cream the butter and sugar together until nice and fluffy. Add in the extracts.
Whisk together the salt, flour and almond meal, and add it slowly to the butter and sugar until you get a crumbly dough. Reserve 1 cup of the mixture.
Line an 8x8 inch square baking dish with parchment paper, with edges overlapping the sides if you want to remove the squares from the pan for easier cutting. If not, lightly grease the pan. Pat the dough into the bottom with your hands, or use the back of a measuring cup to tamp down the dough. Don't pack it down super hard, just get it spread out and relatively flat.
Arrange the apricot slices evenly over the top of the dough. Double up a little if you want.
Squeeze the lemon juice evenly over the apricots.
Make the crumble topping by mixing the sliced almonds with the reserved dough. Lightly mix with your fingertips, forming large crumbs. Scatter the crumbs evenly over the apricots.
Bake for about 40 minutes until lightly golden.
Cool slightly before cutting.