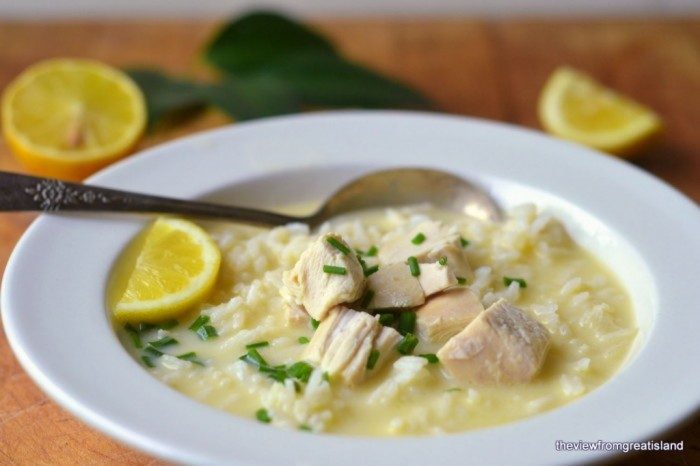 Avgolemono Soup
Recipe by The View From the Great Island
Visit website
---
---
Avgolemono Soup, a lemony chicken and rice soup from Greece
---
---
Ingredients
about 2 cups leftover cooked rice or orzo pasta
1 quart chicken broth
2 cups water
2 cups cooked white meat chicken, cut in chunks
3 eggs, well beaten
about 1/3 cup fresh lemon juice
salt and fresh pepper
snipped chives or parsley
---
Method
Heat the stock and water in a large soup pot to simmering. Add in the chicken meat and simmer for a few minutes. Take it off the heat.
In a separate bowl, whisk the 3 eggs and the lemon juice together, make sure they are well incorporated and the eggs are completely broken up.
Slowly pour one ladle of the hot broth into the egg mixture, whisking all the while. Add another in slowly, and then a third. You are tempering the eggs so they don't curdle when you add them to the hot broth in the soup pot.
Then, slowly, drizzle in the lemon egg mixture back into the broth, whisking constantly. (If you are good at that pat the head and rub the tummy trick, you'll do fine with this…)
The soup will turn a cloudy creamy color. Put the pan back on the burner and heat gently until it thickens slightly but doesn't boil. Don't stop whisking or stirring. This will only take a few minutes, and don't wait for it to get super thick, it won't. It just has a nice full bodied texture.
I like to put the rice in the individual bowls first, and then top with the hot soup. This way the rice doesn't absorb too much of the broth and get soggy. Add the parsley or chives, check the seasonings, and serve right away. Be sure you salt the soup sufficiently, and add more lemon if you want to.
Serve garnished with snipped chives or parsley.