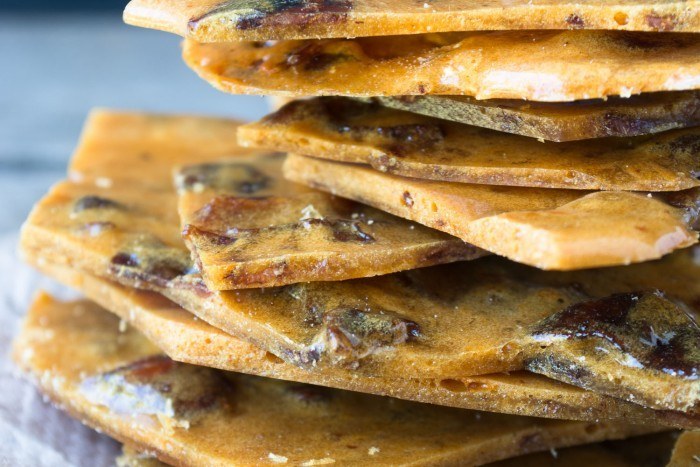 Bacon Brittle
Recipe by The View From the Great Island
Visit website
---
---
Bacon Brittle is the ultimate homemade candy, and can be made entirely in the microwave in minutes!
---
---
Ingredients
0.5 lb bacon, cooked until crisp, cooled, and chopped or crumbled, to make about 1 cup
1 cup sugar
0.5 cup light corn syrup
1.5 tsp baking soda
1 tbsp butter
---
Method
Set oven to lowest setting
Get everything ready before you begin. Prepare a baking sheet by lining it with a silpat mat, or use nonstick foil. If you have neither of those, lightly butter the pan itself. Set the pan in the oven to warm while you make the candy.
Measure out 1 cup of crumbled bacon and set aside. Measure the butter and the baking soda and set aside. Butter a spatula or spreader and set aside. You will also need a spoon for stirring, I like to use a silicone spoonula like these.
Put the sugar and corn syrup in a large microwave safe bowl and stir together.
Microwave on high for 3 minutes, then remove and stir well. I like to use a silicone spoonula.
Microwave another 3 minutes and then add the butter and stir again.
Microwave for 2 more minutes, then remove, stir in the bacon and baking soda.
Immediately pour the hot mixture onto the prepared baking sheet, spreading it out thinly with a spatula. The warmth of the pan will give you a little time here, so smooth it out evenly and thinly.
let sit until completely cooled and set, about 30 minutes.
Use a knife to crack the brittle into pieces.