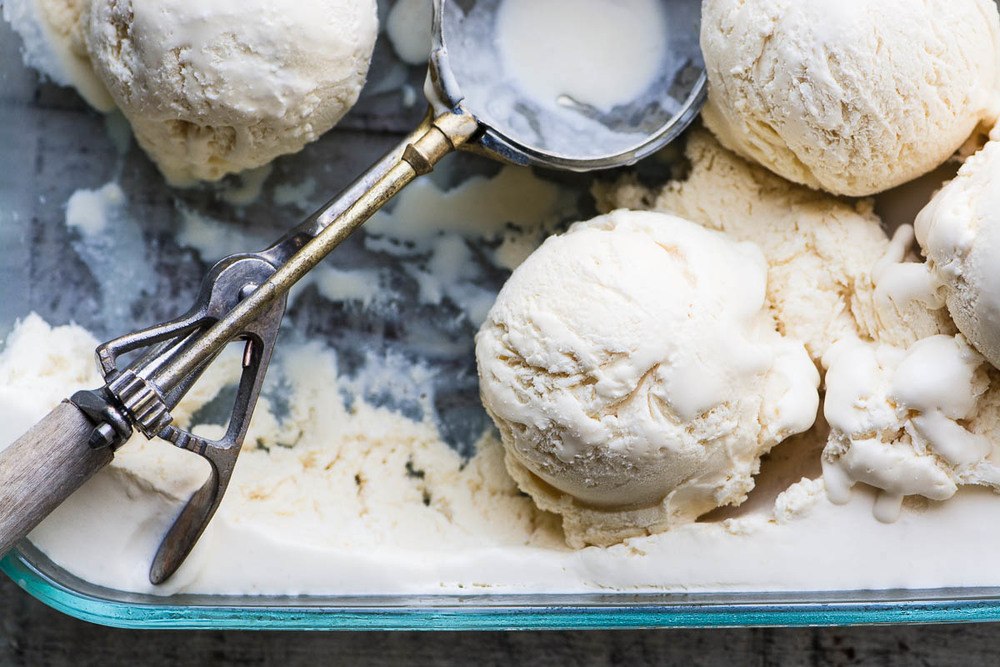 Ballymaloe No Churn Vanilla Ice Cream
Recipe by The View From the Great Island
Visit website
---
---
Ballymaloe No Churn Vanilla Ice Cream ~ this classic vanilla ice cream recipe from Darina Allen is a dream come true for anyone who craves a homemade ice cream experience but lacks the fancy machine ~ her unusual no churn technique is life changing!
---
---
Ingredients
4 large egg yolks
0.5 cup sugar
1 cup water
2 tsp good vanilla extract
1 pint (2 cups) heavy cream, cold
---
Method
Beat the egg yolks until light and fluffy, at least several minutes. Ideally do this in a stand mixer.
Whip the cream to soft peaks in a large bowl, then refrigerate.
Bring the sugar and water to a boil in a small saucepan, stirring to dissolve the sugar.
Keep at a full boil until the mixture reaches the 'thread' stage, 223°F-236F on your candy thermometer. This will take about 10 minutes, give or take, depending on the size of your pan, you don't need to stir while it is boiling. The mixture will reduce down and will be syrupy, so use this as a guide if you don't have a thermometer.
With the mixer on, add the hot syrup to the egg yolks in a slow steady stream, beating all the time. Let the mixer go for a few minutes until the mixture is thick and very pale, like mousse.
Gently mix the egg yolk mixture into the whipped cream, using a classic folding technique so you don't lose all the air in the whipped cream. When the mixture is fully combined and there are no streaks, spoon it into a freezable container. Cover and freeze until firm, at least 6-8 hours or overnight.
Scoop and enjoy!