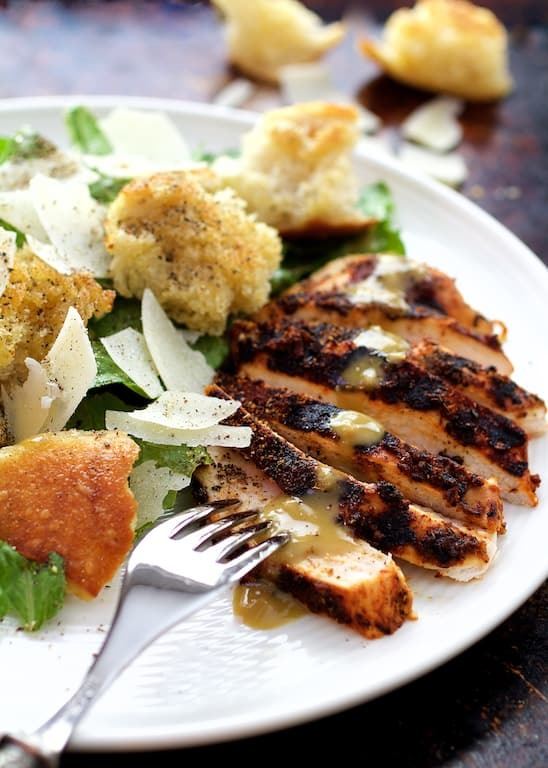 Blackened Chicken Caesar Salad
Recipe by From a Chef's Kitchen
Visit website
---
---
Blackened Chicken Caesar Salad with Sourdough Croutons is a combination of two of the best ideas any chef ever had: Caesar salad and blackening!
---
---
Ingredients
chicken
2 boneless skinless chicken breast halves
0.5 cup Italian salad dressing
oil for grill or grill pan
blackening MIX
4 teaspoons smoked paprika
2 teaspoon sweet paprika
2 teaspoons garlic powder
2 teaspoons onion powder
2 teaspoons black pepper
1 teaspoon cayenne pepper
1 teaspoon dry mustard
1 teaspoon dried thyme
1 teaspoon dried oregano
0.5 teaspoon salt
dressing
0.5 cup olive oil
1 large lemon, juiced
2 cloves garlic, minced or pressed
2 tablespoons mayonnaise
1 tablespoon anchovy paste
1 teaspoon Worcestershire sauce
1 teaspoon dijon mustard
salt and freshly ground black pepper
2 tablespoons finely grated Parmesan cheese
croutons
2 mini sourdough baguettes
0.25 cup olive oil
1 teaspoon garlic powder
salt and freshly ground black pepper
salad
1 large head Romaine lettuce, torn into bite-size pieces
0.5 cup shaved Parmesan cheese
---
Method
CHICKEN: Place chicken in a zipper-top bag. Add salad dressing. Marinate 4-8 hours in the refrigerator.
BLACKENING MIX: Combine all ingredients in a small bowl. Set aside.
DRESSING: Whisk dressing ingredients together in a small bowl. Adjust seasoning to taste. Refrigerator until needed.
CROUTONS: Preheat oven to 375 degrees. Tear baguettes into approximately 1 to 1 1/2-inch pieces. Place on a baking sheet. Drizzle olive oil over the bread, sprinkle with garlic powder and season to taste with salt and black pepper. Toss well to coat. Bake for 10-12 minutes or until dry and crisp. Let cool. Keep oven at 375 degrees.
COOK CHICKEN: Preheat a grill pan over medium-high heat. Remove chicken from marinade and discard marinade. Blot chicken dry on a paper towel. Coat chicken well on both sides with blackening mix. Brush grill pan with oil. Place chicken on pan, reduce heat to medium and cook 4-5 minutes per side or until spices are dark and caramelized, being careful not to burn them. Transfer to a baking sheet and finish cooking to at least 165 degrees in the center. Let cool.
TO SERVE: Toss Romaine lettuce with dressing. Place on chilled plates. Top with croutons, cheese and chicken. Drizzle more dressing over the chicken.