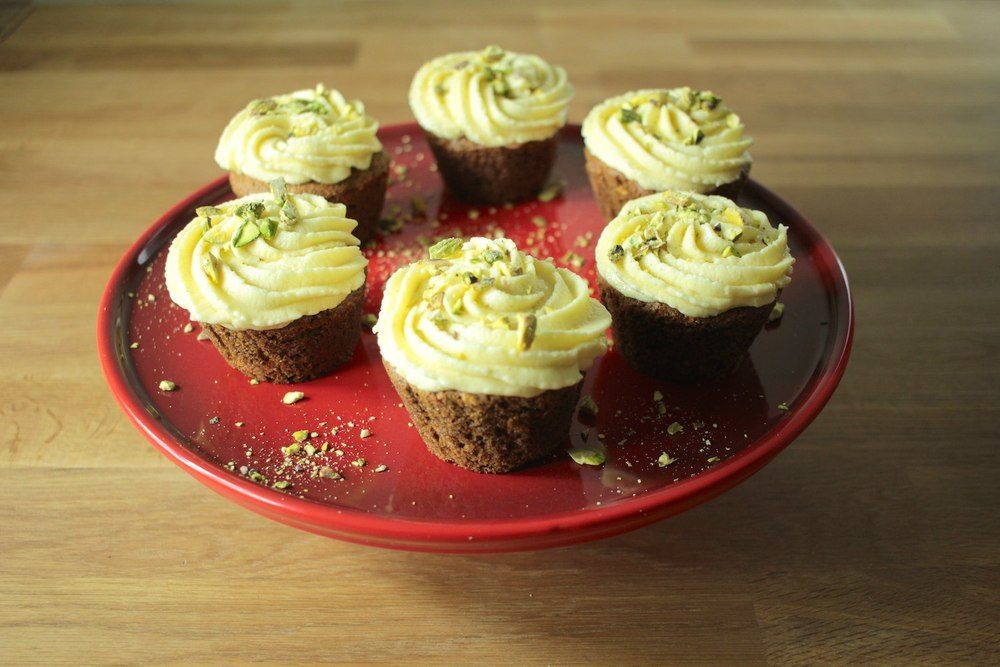 Carrot and Pistachio Muffins with White Chocolate Frosting
Recipe by Globe Scoffers
Visit website
---
---
A new take on the classic carrot cake with delicious white chocolate frosting.
---
---
Ingredients
175 g light muscovado sugar
100 g wholemeal self-raising flour
100 g self-raising flour 
1 tsp bicarbonate of soda
2 tsp mixed spice
2 eggs
orange zest
150 ml sunflower oil
200 g carrot grated
50 g pistachio ((ground in a mortar and pestle, so they are still quite big chunks. Also leave some for d
110 g unsalted butter
150 g white Chocolate
1 tbsp semi skimmed milk
250 g icing sugar
---
Method
Heat the oven to 180°C / 160°C fan / gas 4 and line a 12 hole muffin tin with cases.
In a large mixing bowl, mix the sugar, flours, bicarbonate of soda, mixed spices and orange zest.
Whisk together the eggs and oil (I like to use my Kitchen Aid although a hand whisk will also be fine) Stir into the dry ingredients with the grated carrot and pistachio. Stir well until all the ingredients are well combined.
Divide the mixture between the cases and bake for 20-22 minutes. Check the muffins are cooked by poking a metal skewer into them. If it comes out clean they are ready. Cool on a wire rack before icing.
This is where the Kitchen Aid comes in really handy. If you haven't got one this may take a while. Be sure to use on a low speed on your hand whisk otherwise you might get covered in icing sugar. Beat the butter and icing sugar together until smooth and like a paste.
Melt the white chocolate on the hob or in the microwave, add to the mixture and mix until smooth.
Depending on which white chocolate you use (I used Green and Black's white chocolate) it may alter the consistency of your icing. You may need to add a little milk if it is too thick. If it's too runny add a little more icing sugar and stir well.
Add your icing to a piping bag with your choice of nozzle and pipe on an even amount of icing to each muffin.
If you desire, gently take each muffin out of the case and sprinkle with pistachio.
Serve and enjoy!