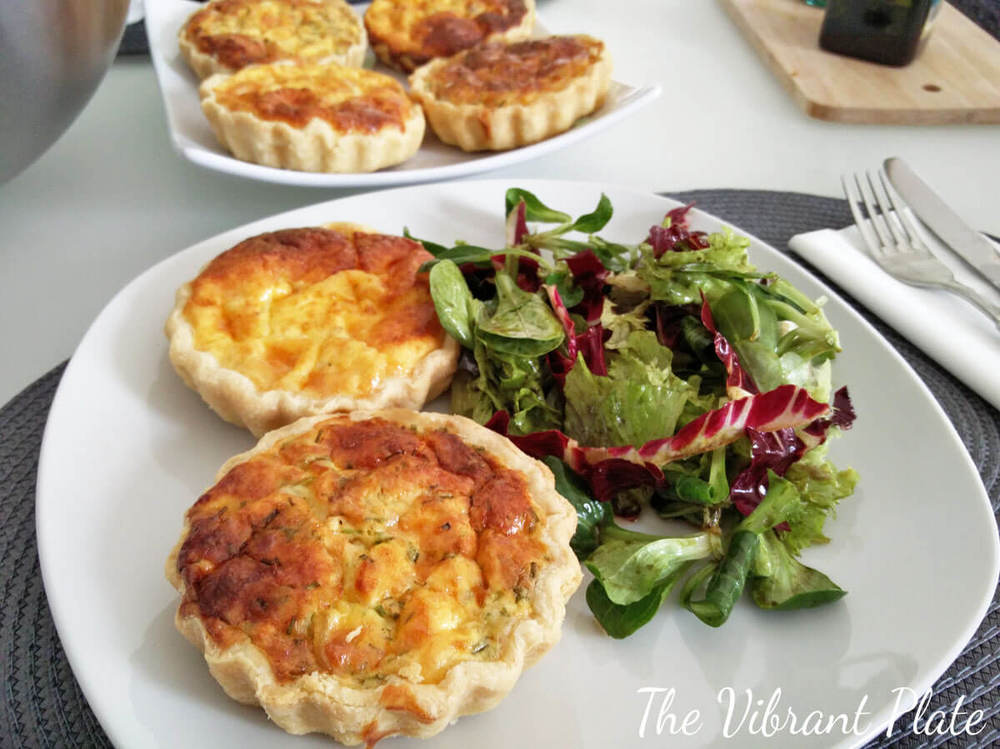 Cheese tarts with onions and bacon
Recipe by Vibrant Plates
Visit website
---
---
---
---
Ingredients
200 g flour
100 g butter
of salt
5 tbs cold water
a handful of bacon bits
1 large onion
2 eggs
90 ml sour cream
70 g of cheese
10 g of parmesan
a sprinkle of black pepper
1 tbs chives
---
Method
For the pie crust: Sift flour to a bowl and make a well in the center. Cut butter into small bits and place over the flour. Sprinkle with a pinch of salt and add water into the well. With your hands, start to mix together gently, but quickly. Knead the ingredients into a dough, form a ball, cover it with cling foil and place in fridge to refregirate for at least an hour (or overnight).
Peel and slice the onion into thin slices. In a pan, heat some oil and then add the onion slices. Stir frequently until the onion becomes translucent and starts browning, then lower the heat, cover the pan and continue sauteeing & stirring occasionally for about 15-20 minutes, until the onions caramelize (turn brown, but not burnt and are sweet to taste).
Preheat oven to 190°C.
Grate your cheese and parmesan, finely chop chives and cut bacon into small bits (or use pre-cut).
Roll out your pie crust thin (0,5 cm) and cut it into large enough circles to cover the bottom and sides of your model. Grease your tart model with oil or butter, then place the crust into the model, making sure to press it into the sides well, to achieve a nice tart form.
Beat up the eggs in a bowl. Add seasoning (pepper & a pinch of salt), chives and sour cream. Whisk it gently to achieve a light cream mix. Lastly, mix inthe grated cheese & parmesan.
Add bacon bits and caramelized onions on the bottom of the tart model and then pour over the cream & cheese mix.
Place the model into the oven and bake at 190°C for about 20 mins or until a golden color.
Once baked, let it chill for at least a couple of minutes and then serve with a large leafy salad.