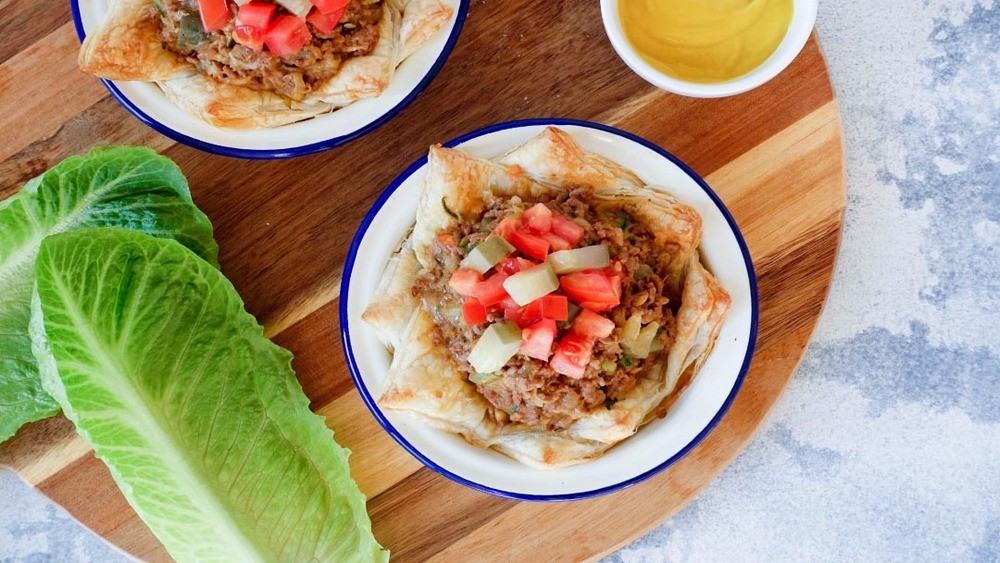 Cheeseburger Pie
Recipe by You Totally Got This
Visit website
---
---
Haven't tried a cheeseburger pie? You haven't lived. This cheeseburger pie recipe is quick, easy, healthy and amazingly delicious. Get the recipe here.
---
---
Ingredients
1 sheet of puff pastry regular or gluten free depending on your dietary requirements
2 tsp olive oil
250g g beef mince
1 brown onion 
1 small zucchini
1 clove garlic
1 tbs tomato paste
1 tbs soy sauce or tamari for gluten free
1 tsp paprika
pinch cayenne pepper
0.25 cup grated tasty cheese
1 large gherkin, plus extra to serve
1 medium tomato
4 cos lettuce leaves
1 tbs mustard
1 tbs tomato sauce (ketchup) 
---
Method
Preheat your oven to 180C/350F and remove pastry from the freezer so it can defrost.
Grate the onion and zuchinni, mince the garlic, and dice the gherkin and tomato. Set aside.
Heat the olive oil in a fry pan over medium to high heat. Add the onion, garlic and zucchini and cook for 3 to 5 minutes until the onion and zucchini are soft.
Next add the minced beef, paprika, cayenne pepper (if using), tomato paste and soy sauce, and cook until the mince has browned.
Meanwhile, cut the pastry sheet into four even squares. Line 2 oven proof bowls or ramekins with pastry, using 2 squares of pastry in each bowl, letting the sides overhang (I used shallow 14 cm enamel bowls, but a small ramekin would work too). Prick the base of the pastry with a fork and cook in the oven for 10 to 12 minutes until the pastry is golden.
When the cheeseburger mixture is cooked through, stir through the chopped gherkin and cheese. If the pastry is still cooking, reduce the heat to low to keep the cheeseburger mixture warm.
Remove the pastry from the oven. If the base of the pastry has puffed up during cooking, gently push it down with the back of a spoon. Spoon the mince evenly between each pie case. Top with diced tomato and extra gherkin - optional, but totally yum!
Serve with lettuce leaves, mustard, tomato sauce (ketchup).