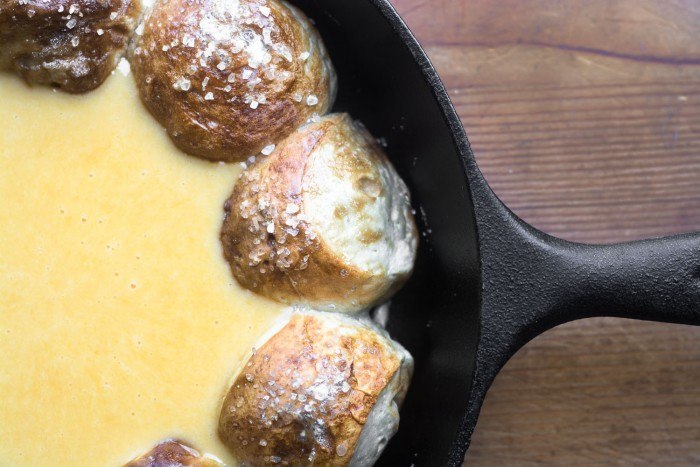 Cheesy Beer Dip with Pretzel Rolls
Recipe by The View From the Great Island
Visit website
---
---
Cheesy Beer Dip with Pretzel Rolls is a comforting hot appetizer for Game Night or any night, and guaranteed people pleaser!
---
---
Ingredients
1 tube of refrigerated French Bread dough

2 cups warm water

8 tsp baking soda

1 egg white, whisked

coarse sea salt

1 tbsp melted butter for brushing

Chive dip

12 ounces beer

1 lb shredded cheddar cheese

2 tsp Wondra flour

(as needed)
---
---
Method
Pre-heat the oven to 350F
Lightly spray a 10" cast iron skillet with cooking spray.
Open the refrigerated dough and slice into 10 equal pieces.
Stir the baking soda into the warm water, along with the egg white, and give it a good stir. Dip each slice or ball of dough into the water, and then set around the perimeter of the pan. You can leave a little space between each one to allow for expansion while it bakes. Sprinkle with the sea salt.
Bake for about 25 minutes, until golden brown. Brush with a little melted butter and hit the rolls with a little more salt. Set aside.
Meanwhile put the beer into a saucepan and heat to boiling. Simmer for about 5 minutes to reduce the beer a bit.
Take the pan off the heat and gradually whisk or stir in the cheese. When the cheese has melted, use a food processor or immersion blender to process briefly until smooth.
Reheat the cheese gently, and, if necessary, add a little Wondra flour to thicken the dip. Whisk constantly, and when it looks smooth and slightly thickened, it's ready to pour into the center of the baked rolls.
Serve immediately with plenty of beer and plenty of napkins.