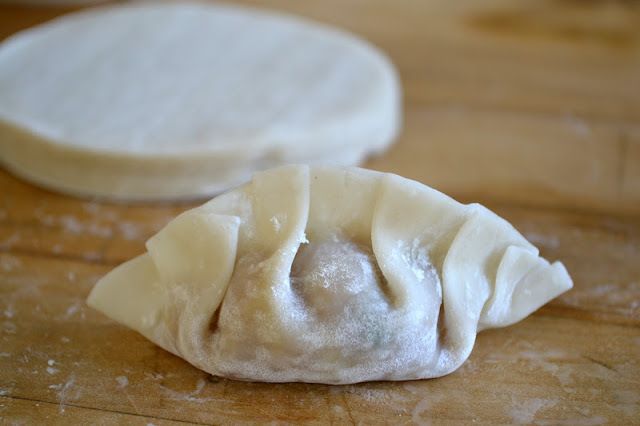 Chicken Gyoza (Pot Stickers)
Recipe by The View From the Great Island
Visit website
---
---
How to Make Chicken Gyoza (Pot Stickers) ~ I'll show you how to make these tender chicken dumplings right at home ~ it's so easy!
---
Servings
approximately 27 dumplings
Cuisines
Courses
---
Ingredients
1 package gyoza wrappers
0.5 lb ground chicken
0.5 cup finely minced Napa cabbage
2 scallions
1 clove garlic
1 small hot pepper, seeds and all
1 tbsp grated fresh ginger
2 tbsp soy sauce
2 tbsp sesame oil
dipping Sauce #1
0.25 cup soy sauce
2 tbsp sesame oil
0.125 cup rice wine vinegar
add minced garlic or grated ginger if you like
sesame seeds for garnish
dipping Sauce #2
1 tbsp cornstarch
2 tbsp water
0.5 cup water
0.25 cup rice wine vinegar
juice of 1 lemon or lime
2 tbsp red chili paste
1 tbsp sriracha chili sauce
2 tbsp honey
1 tsp fish sauce
dash salt
---
Method
Mix all the ingredients, except the wrappers, together in a bowl. Make sure it is thoroughly combined.
Spoon approximately a teaspoon of the meat mixture onto the center of a gyoza wrapper.
Dampen the perimeter of the wrapper with a wet finger. Fold in half over the filling.
Keeping the back side of the dumpling straight, bring together four or five small pleats on the front side of the dumpling, and press to seal.
Cover the bottom of a large skillet with vegetable oil and heat on medium until the oil is hot.
Working in batches, place the gyozas, flat side down, in the hot oil and let them brown.
When the bottoms have become crisp and brown, pour about 1/4 cup water into the pan, and cover to let the dumplings steam.
After a few minutes, take the lid off and let any remaining water evaporate off. Check the temperature with an instant read thermometer to make sure the chicken is cooked. It should be at least 160 degrees. If not, put the lid back on and steam a little longer.
Serve hot with dipping sauces.
To make sauce # 1, mix the ingredients together and taste to adjust. Garnish with sesame seeds.
To make sauce # 2, mix the cornstarch and water in a small glass and set aside. Mix the rest of the ingredients in a small sauce pan and bring to a boil. Simmer for about 4 minutes, then add the cornstarch. Let the thickened sauce simmer on low for another minute. Cool and refrigerate or serve.