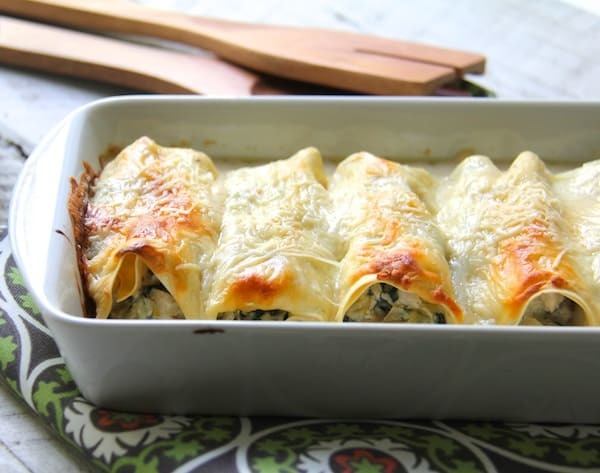 Chicken, Spinach and Artichoke Cannelloni
Recipe by From a Chef's Kitchen
Visit website
---
---
Chicken, Spinach and Artichoke Cannelloni is elegant enough for a special dinner for two and you don't even need to boil the pasta!
---
---
Ingredients
nonstick cooking spray
6 flat no-boil lasagna noodles
2 cups fresh baby spinach
8 frozen artichoke hearts (about 1/2 cup), thawed, patted dry and coarsely chopped
1 large boneless skinless chicken breast half (about 1 cup), cooked and diced
4 ounces cream cheese with chives and onions (1/2 of an 8-ounce container)
2 cloves garlic
0.75 cup shredded mozzarella cheese
salt and freshly ground black pepper
3 tablespoons butter
3 tablespoons all-purpose flour
2 cups milk
0.5 cup freshly grated Parmesan cheese
1 pinch ground nutmeg
---
Method
Preheat oven to 375 degrees. Spray an 11 x 7-inch baking dish with cooking spray. Set aside. Fill a shallow pan with hot tap water. Soak the lasagna noodles until pliable while preparing the filling. When pliable, drain and pat dry with paper towels.
Place spinach in a microwave-safe container and add 1-2 tablespoons water. Microwave on high for 1 to 1 1/2 minutes or until wilted. Drain, cool, squeeze out any excess water and coarsely chop. Combine spinach, artichoke hearts, chicken, cream cheese, garlic, 1/4 cup Mozzarella cheese and salt and pepper to taste in a bowl. Set aside.
Heat butter over medium-high heat. Add flour and cook 2 minutes, whisking constantly. Slowly add milk, whisking constantly. Bring to a boil, reduce heat to low and simmer until thickened. Stir in salt and pepper, 1/4 cup grated Parmesan cheese and a pinch of nutmeg. Pour 1/2 cup of the sauce on the bottom of the prepared baking dish.
Place even amounts of the chicken filling on one of the short sides of the lasagna noodles. Roll up and arrange in a row on the bechamel sauce. Pour remaining sauce over the cannelloni. Sprinkle remaining Mozzarella and Parmesan over the top.\
Cover loosely with aluminum foil. Bake for 25 minutes. Remove foil and bake another 20 to 25 minutes or until top is lightly browned and sauce is bubbling.