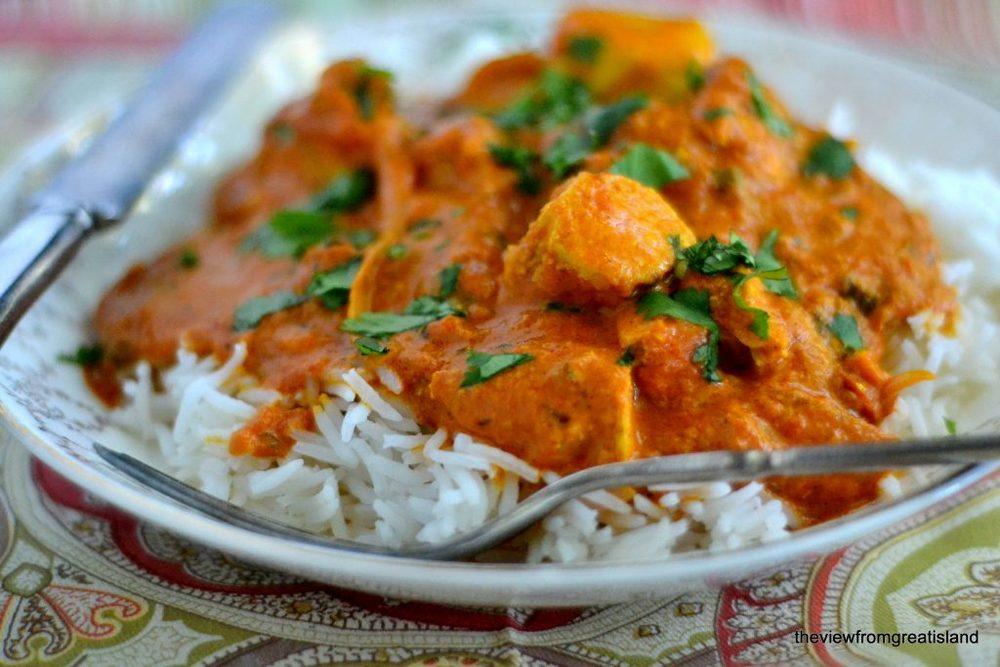 Chicken Tikka Masala
Recipe by The View From the Great Island
Visit website
---
---
Chicken Tikka Masala is the most popular Indian restaurant dish in the Western world, and with this recipe you can enjoy it any day of the week!
---
---
Ingredients
for the chicken:
1 lb skinless boneless chicken breasts
0.66666666666667 cup Greek yogurt
1 tsp Turmeric
1 tsp coriander
1 tsp cumin
1 tsp salt
2 cloves garlic
1 tbsp fresh grated ginger
for the sauce:
3 tbsp light olive oil
1 medium white onion
0.5 can tomato paste
10 cardamom pods
4 small dried hot chilies, crushed, seeds and all
2 cloves garlic
1 tbsp fresh grated ginger
1 tsp Turmeric
1 tsp cumin
1 tsp coriander
1 tsp salt
2 oz 14 cans of good quality whole peeled tomatoes, with their juice
1 cup heavy cream
2 tbsp of chopped fresh cilantro, plus more for garnish
---
Method
To marinate the chicken, mix the yogurt with all the spices and coat the chicken on all sides. Cover and refrigerate for a few hours to marinate.
Put the chicken on a foil covered baking sheet (leave the yogurt coating on) and put in the broiler for about 10 minutes until the surface starts to char. The chicken will not be completely cooked, it will finish cooking in the sauce.
Cut the chicken into large chunks and set aside.
To make the sauce, heat the oil in a heavy bottomed pot and saute the onions, tomato paste, cardamom, chili, garlic, ginger and spices for about 10 minutes. Stir often.
Add the tomatoes, crushing them through your fingers as you add them. Cook the sauce for another 10 minutes, stirring often.
Add the cream and 2 Tbsp of the fresh chopped cilantro. Bring to a boil and let the sauce cook gently for 20 to 30 minutes.
Add the chicken, and finish cooking for another 10 minutes. Add a little water if the sauce seems too thick. Check the seasonings and add salt to taste.
Serve over basmati rice, garnished with more fresh cilantro. Serve yogurt and chutney on the side.