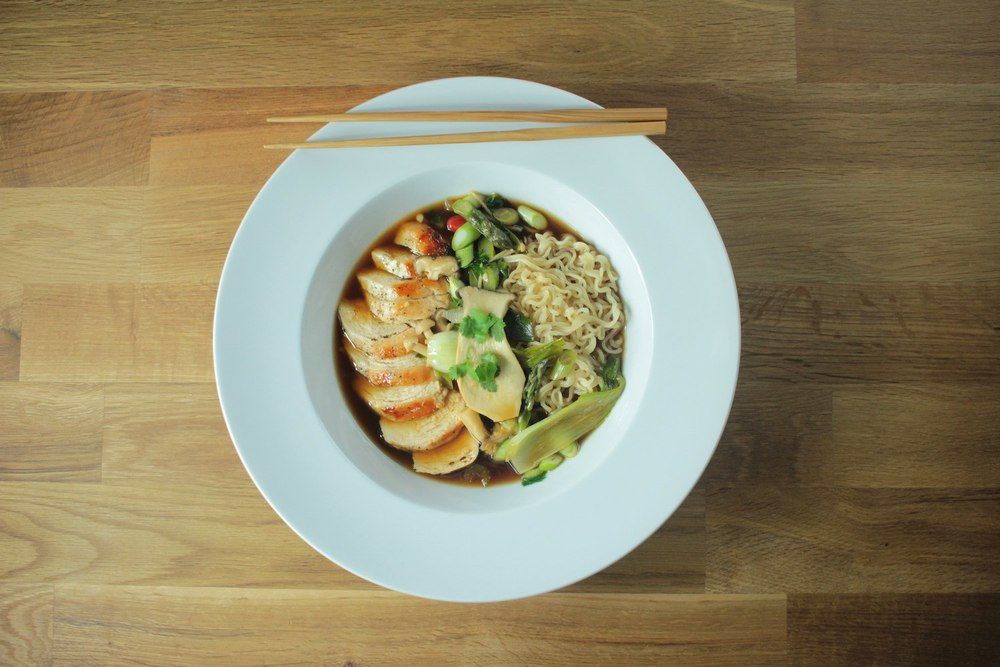 Chicken and Wild Mushroom Ramen
Recipe by Globe Scoffers
Visit website
---
---
---
---
Ingredients
2 chicken breasts
2 tsp sesame oil
2 tsp fresh ginger
3 cloves of garlic
3 tbsp low-sodium soy sauce
2 tbsp mirin
1 lt rich chicken stock
300 g wild mushrooms
1 red chili
2 small pak choi
4 spring onions
1 bundle asparagus
2 packets dried ramen noodles
1 bunch fresh coriander
---
Method
Pre heat the oven to 180°C / 160°C fan / gas 4. Pan fry the chicken skin side down for 5-7 minutes until the skin starts to crisp. Turn the chicken over and cook for another 4-5 minutes. Transfer to the oven and roast for 12-15 minutes or until the chicken is cooked through.
Heat the oil in a large saucepan over a medium heat. Add the garlic and ginger and cook for 2 minutes.
Then add the soy sauce and mirin, stir to combine. Cook for a minute then add the chicken stock.
Cover and bring to the boil. Turn down to a simmer add the pak choi and chili (if using).
In a separate saucepan add the noodles and cook to packet instructions.
Add the mushrooms, asparagus and spring onion to the broth and cook for 3-4 minutes .
Take the chicken out of the oven and slice each breast into pieces. Add the chicken breast to one side of the bowl and the noodles to the other. Ladle the broth and the veg into the bowl and garnish with coriander.
Serve and enjoy!