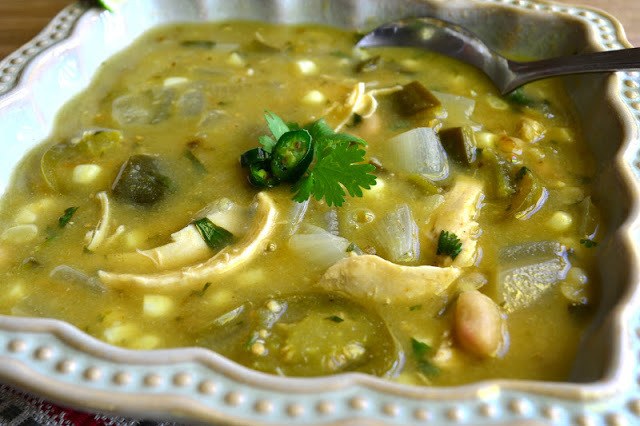 Chile Verde with Chicken
Recipe by The View From the Great Island
Visit website
---
---
Chile Verde with Chicken is a wonderful green chili recipe made with green tomatoes, tomatillos, jalapenos, and lots of chicken!
---
---
Ingredients
2 boneless skinless chicken breasts
about 5 tomatillos
6 medium green tomatoes
4 cloves garlic, unpeeled
olive oil
1 medium Spanish onion
1 large jalapeno pepper, sliced, seeds and all
1 poblano pepper
1 10-oz can green chile enchilada sauce
1 7-oz bottle of Corona beer
2 cups water
1 tsp cumin
1 tsp salt
1 ear of white corn, kernels removed
1 14-oz can of white beans
4 tbsp masa harina dissolved in 1/4 cup water
1 large handful fresh cilantro
juice of 1 lime
---
Method
Put the chicken breasts in a small saucepan and just cover with water. Bring to a simmer over medium heat, and let them simmer for a few minutes. Then turn off the heat, cover, and let the pan sit for 20 minutes.
Halve the tomatoes and tomatillos and place on a baking sheet. Add the unpeeled garlic, and put under the broiler for about 15 minutes, checking regularly, until they just begin to char.
Put the tomatoes and tomatillos in a food processor. Squeeze out the cloves of roasted garlic, and put them in too. Process until blended, and set aside
Cover the bottom of a large, heavy bottomed pot with olive oil. Saute the onion for about 10 minutes, then add the peppers and saute for another 10 minutes.
Add in the enchilada sauce, beer, water, cumin and salt. Bring up to a simmer and simmer for about 10 minutes.
Shred the cooked chicken with two forks, pulling the meat apart along the grain. Add to the chile, along with the corn and beans. Simmer for another 10 minutes.
Stir in the masa harina/water mixture into the chile. The chile will thicken. Add more masa harina mixed with water if it's not as thick as you like it. Simmer for a few more minutes, then add the cilantro and lime.
Taste it to check the seasoning and then serve it up hot in bowls, with Masa Harina Biscuits, recipe below.