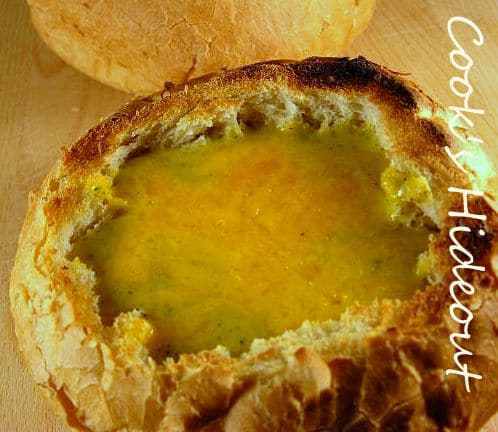 Creamy Broccoli Soup in Bread Bowl
Recipe by Cook's Hideout
Visit website
---
---
---
---
Ingredients
3 cups Broccoli
1 carrot
1 onion
2 cloves garlic
2 tbsps butter
2 tsps flour
2 cups vegetable broth
2 cups milk
1 cup cheddar cheese
cod, halibut, hake or tilapia filet
to taste Salt Pepper
---
Method
Microwave broccoli & carrot with ¼ cup water for 5-6 minutes or until the veggies are almost tender.
Heat butter in a medium size sauce pan; add onions and garlic; sauté until onions turn translucent.
Sprinkle flour on the onions and cook for 2-3 minutes on medium-low flame until the flour doesn't smell raw anymore.
Whisk in broth & milk; bring the mixture to a low simmer whisking occasionally.
Next add the par-cooked veggies and bring the mixture to a boil. Season with nutmeg, salt & pepper. Turn off the heat.
Blend the mixture to a smooth consistency either using an immersion blender or in a blender.
Return soup to the saucepan; stir in grated cheese. Serve hot.
I served mine in a sour dough bread bowl. I scooped the inside out of the bread, poured soup in, topped it with some cheese and broiled for couple of minutes so that the bread is toasted and cheese is melted and bubbly.