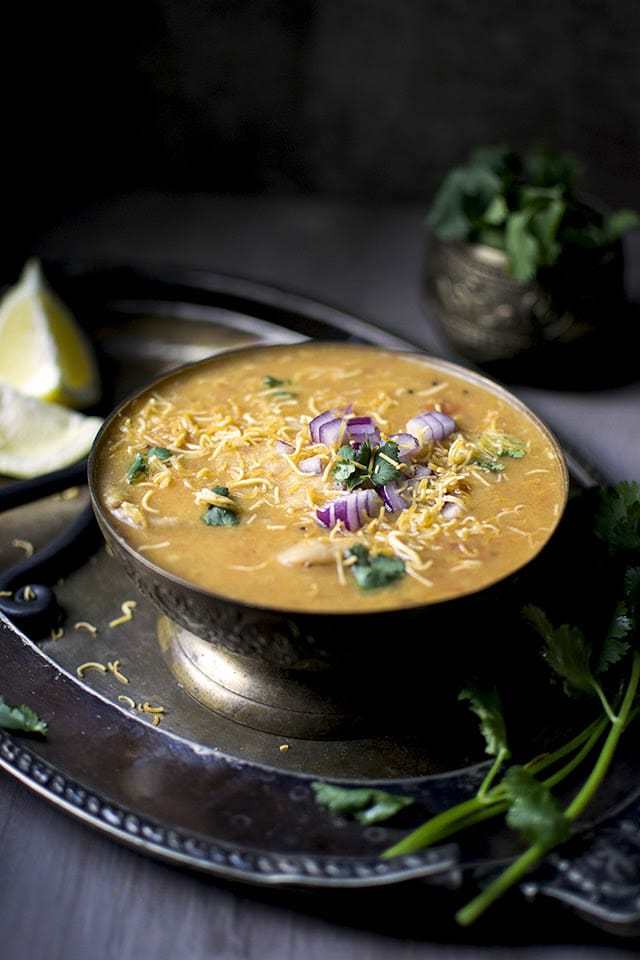 Dal Dhokli
Recipe by Cook's Hideout
Visit website
---
---
---
---
Ingredients
1 cup Wheat flour Atta
0.5 ~ 1 tsps Chili powder
0.25 tsp Turmeric
0.5 tsp cumin
0.5 tsp seeds
1 tbsp cuptomato paste
to taste Salt
0.5 cup Toor dal
0.5 tsp Mustard seeds
0.5 tsp Cumin seeds
1 tomato
1 tsp chili powder
0.5 tsp Turmeric
0.5 tsp coriander
0.5 tsp cumin
0.125 tsp Asafoetida
8 ~ 10 Curry leaves
1 tbsp cuptomato paste
to taste Salt
onion
cilantro
1 zest and juice of lemon
sev
---
Method
In a medium bowl, combine wheat flour, red chili powder, turmeric, carom seeds, ground cumin, oil and salt. Add just enough water to make a stiff and smooth dough.
Divide the dough into small balls and flatten them into discs making sure to keep the thickness even. Place the dhokli on a plate and keep covered with a clean kitchen towel until ready to use.
Pressure cook dal until tender and mushy.
Heat oil in a saucepan, add mustard seeds, cumin seeds and asafoetida; when the seeds start to splutter, add the curry leaves and tomato. Cook till the tomato turns mushy.
Add red chili powder, ground cumin, ground coriander and turmeric. Mix well and add the cooked dal and enough water to get a thin consistency.
Season with salt and bring the dal to a boil.
Once the dal is boiling, gently add the dhoklis, lower the heat to a simmer and cook dhoklis for 15~20 minutes or until cooked through. To check if the dhoklis are cooked, remove one from the dal and cut it, if still raw in the middle, simmer a little longer, if it looks cooked, then it's done.
Serve warm with chopped cilantro, onions, sev and lemon juice.