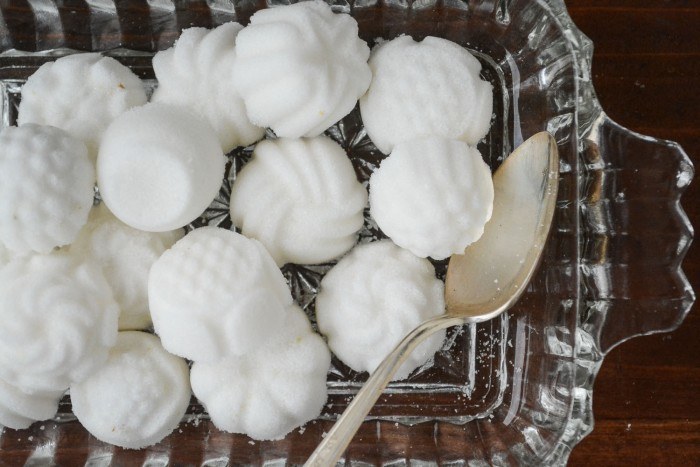 DIY Sugar Cubes for Afternoon Tea
Recipe by The View From the Great Island
Visit website
---
---
DIY Sugar Cubes ~ these fancy sugar cubes are surprisingly easy to make, and can transform morning coffee or afternoon tea into a truly memorable occasion!
---
Servings
each 1/2 cup sugar makes approximately 12 sugar cubes
---
Ingredients
plain sugar cubes

½ cup sugar

½ tsp water

lemon sugar cubes

½ cup sugar

rind from 1/2 lemon (I use a serrated vegetable peeler to thinly peel the rid off, just the yellow,

rose sugar cubes

½ cup sugar

½ tsp rosewater

touch of gel paste food coloring

(optional)
---
---
Method
For the plain sugar cubes, put the sugar into the bowl of a small food processor and add the water. Process until the sugar is uniformly moist, this will just take about 30 seconds.
For the lemon sugar, put the sugar into your processor. Add the lemon rind and process until the rind is completely incorporated into the sugar and it is a pale yellow. I give the small machine a little shake now and then to redistribute everything. You don't need the water for this one because the rind adds the moisture.
For the rose sugar cubes, process the sugar with the rose water.
Spoon the moist sugar into plastic molds and press in firmly. Use the pads of your fingers to really make sure you've packed it in. The processor will have 'fluffed up' the sugar which is why you need to pack it down.
To invert the mold you can either do it directly onto a flat surface like your counter top, or you can place something firm and flat over the mold, and invert the mold and the surface together,
Gently lift the mold so you don't disturb the delicate impressions. Let them sit for at least 30 minutes, or up to an hour. They will be firm enough to handle and even stack, carefully!