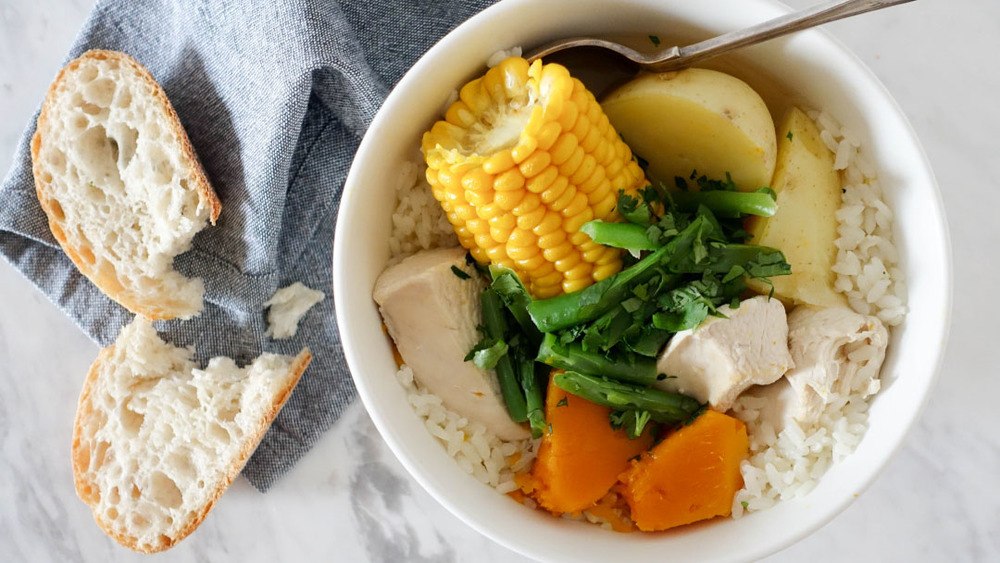 Easy Cazuela Recipe
Recipe by You Totally Got This
Visit website
---
---
Haven't tried Cazuela? You're must! This 30 minute easy cazuela recipe makes it easy. It's the ultimate winter comfort food and it's delicious.
---
---
Ingredients
2 cups chicken stock
1 cup water
1 large chicken breast
1 tsp paprika
1 tsp dried coriander
1 tsp dried oregano
1 medium potato
200g g pumpkin
1 cob corn
100g g green beans
2 tbs fresh parsley
2 tbs fresh coriander
salt & pepper for seasoning
1 pack microwave rice
bread (regular or gluten free) to serve - optional, but yum!
---
Method
Pour the stock and water into a large saucepan, add paprika, coriander, oregano and pepper,  and then bring the stock to boil.
Meanwhile, butterfly the chicken fillet, cut into 4 pieces and sprinkle the chicken with salt on both sides. Roughly cut the potato into quarters leaving the skin on.
When the stock has boiled add the chicken and potato to the saucepan. Bring the stock back to the boil and then reduce the heat. Simmer for 10 minutes.
While the chicken and potato are cooking cut 2 large pieces of pumpkin, remove the husk from the corn and cut the cob in half, and remove the ends from the green beans then slice them length ways.
After 10 minutes, add the corn and pumpkin to the saucepan and continue to simmer for another 5 minutes then add the green beans. Cook for another 5 minutes or until the vegetables are tender. You may need to give the veggies a bit of a stir to make sure they are immersed in the stock.
In the last 5 minutes, cook the rice in the microwave according to packet directions, and chop the parsley and coriander.
Divide the rice between 2 bowls. Use a slotted spoon to remove equal portions of the chicken, potato, pumpkin, corn and beans into each bowl, then pour over stock. Sprinkle with fresh parsley and coriander
Serve with a slice of fresh bread.