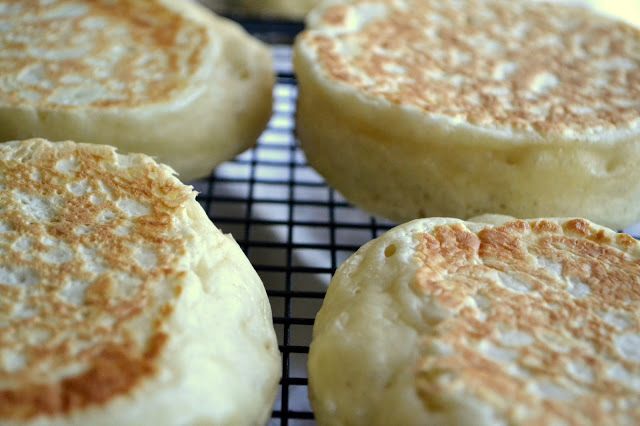 English Crumpets with Maple Pecan Butter
Recipe by The View From the Great Island
Visit website
---
---
You heard it here first. The crumpet might just be the new 'it' food. These light tender English Crumpets are the cousins of the English muffin.
---
---
Ingredients
the crumpets

1 cup (5 oz) bread flour

½ cup plus 1 Tbsp (3 oz) all purpose flour

1 tsp salt

½ tsp baking powder

1 cup whole milk

⅓ cup water

1 tbsp dry yeast

1 tbsp sugar

maple pecan butter

½ cup, 1 stick, unsalted butter

(room temperature)

⅓ cup pecan halves

½ cup pure maple syrup
---
---
Method
Mix the flours, baking powder and salt together in a mixing bowl.
Heat the milk and water to lukewarm, about 105--110F, and mix in the yeast and sugar. Let sit for about 15 minutes in a warm place until foamy.
Pour the yeast mixture into the flour and stir the batter until it is smooth. You are going for a batter the consistency of a very thick pancake batter (but because of the bread flour it will be more elastic than a pancake batter.) Add a bit more warm water if necessary.
Cover the bowl and set in a warm place to rise, about 45 minutes. The batter will be expanded and bubbly.
Heat a griddle over low to medium heat until hot. Spray or grease the inside of your crumpet rings. Place the greased crumpet ring on the griddle and spoon about 1/4 cup of batter into the ring. Gently nudge the dough to the edges of the ring, if necessary. Cook for about 5 minutes on one side. You will see bubbles rise to the surface. Lift off the ring and flip the crumpet. Cook for another minute.
To make the butter, put the nuts in the bowl of a mini food processor and pulse until they are finely chopped.
Add in the butter and the maple syrup and process until the butter is fluffy and the syrup is completely incorporated. Scrape down the sides of the bowl if necessary.