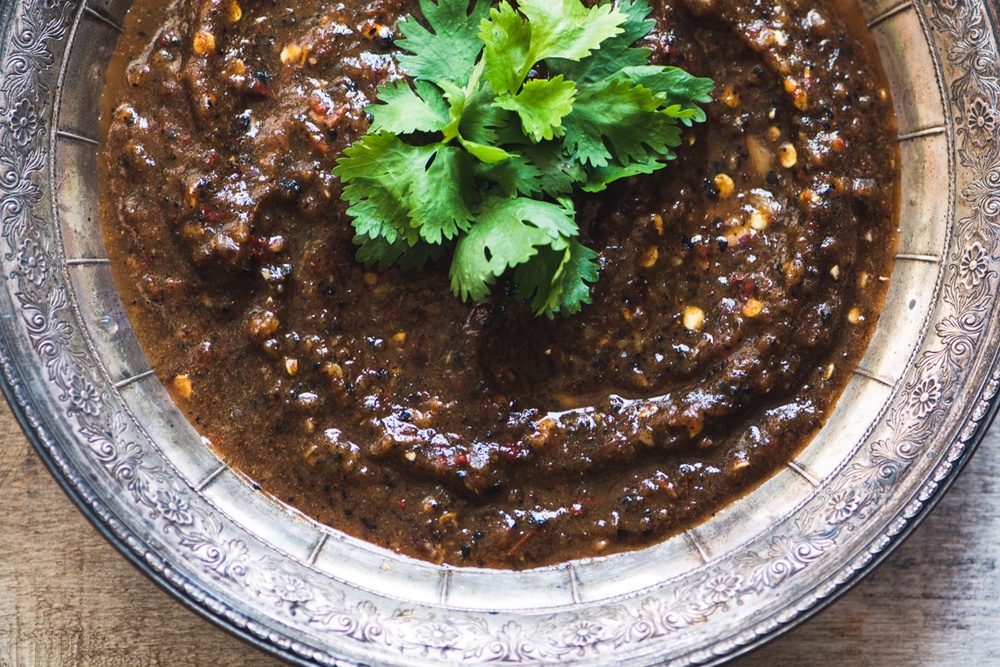 Fire Roasted Salsa Negra (black salsa)
Recipe by The View From the Great Island
Visit website
---
---
Fire Roasted Salsa Negra ~ this intense salsa is made with roasted tomatoes and peppers for a deep dark color and a gutsy flavor ~ it's not for the timid!
---
---
Ingredients
4-5 dried red Hatch or other large red chile peppers
2 pounds firm red tomatoes
2 jalapeno peppers
2 fresh pasilla chile peppers, about 10 ounces
1 medium red onion, peeled and rough chopped
4 cloves garlic, smashed and peeled
1 tsp salt
0.5 tsp fresh cracked black pepper
2 tsp chili powder
2 tsp ground cumin
juice of 1 lime
2 tbsp Worcestershire sauce
1-2 tbsp extra virgin olive oil
garnish
fresh cilantro leaves
---
Method
Cover the dried chiles with boiling water and let soak for 30 minutes. Make sure they are covered by the water.
While the chiles soak, turn your broiler on high, and set the rack at the highest setting. Line a baking sheet with foil and arrange the tomatoes on it. Broil for about 15 minutes, turning occasionally, until the tomatoes are blackened all over. Set aside.
Do the same with the pasilla and jalapeno peppers, leave them whole, don't chop. When they are blackened all over, remove and set aside.
Repeat the procedure with the soaked peppers.
Put the onion and the garlic in the food processor and pulse until finely minced. Turn into a large bowl. Add the salt, pepper, spices, lime juice and Worcestershire sauce.
Chop the blackened tomatoes in quarters, and puree, in the food processor, working in batches if necessary. Add the puree to the bowl with the onions and spices.
Remove and discard the stems from all the peppers and chop them in half. Puree them in the processor, and then add to the bowl. Note: I did not remove the seeds from the peppers.
Add the olive oil to the bowl and blend everything together. Cover and refrigerate until chilled, or until ready to serve. Be sure to taste the salsa prior to serving to adjust any of the seasonings. Note, this is a relatively thick salsa.