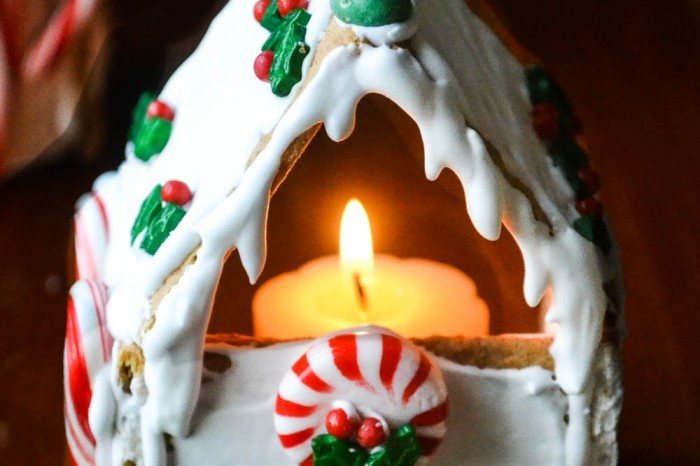 Graham Cracker Gingerbread House Votives (easy tutorial)
Recipe by The View From the Great Island
Visit website
---
---
Graham Cracker Gingerbread House Votives tutorial ~ make these adorable gingerbread houses with the kids!
---
Servings
makes a dozen gingerbread house votives
---
Ingredients
houses

30 full sized graham crackers separated into 60 squares

assorted candy and edible decorations such as candy canes, sprinkles, pretzel sticks, sunflower seed

royal icing

¼ cup meringue powder

½ cup cold water

4 cups (more or less) confectioner's sugar
---
---
Method
First make the royal icing. Put the water and meringue powder in the bowl of a stand mixer and mix until stiff peaks form. Start out slow and scrape down the bowl to get everything incorporated, then let it go on high. This can take 15 minutes or so.
Add in the sugar and continue to beat until smooth, glossy, and spreadable.
Spread the frosting in a thin and even (more or less) layer on each graham cracker square. If you are going to decorate the house AFTER assembling, then just let the squares dry until hard.
If you are going to decorate BEFORE assembling, do one square at a time, and put the candies right into the wet icing. Let dry.
To assemble the base of the houses, take 3 squares, and pipe some icing at the corners to create a box shape, with one open end. Let the base harden completely before putting the roof on.
To add the roof, add a line of icing along the top of the base on each side, and set the roof on. Gently pipe a line of icing along the roof peak. The crackers are light weight and the icing is thick so the roof should stay in place easily while it dries. If you have trouble, add more icing, and hold it for a minute in place. Let dry completely.